Whether you offer flexible pricing to all of your customers, discounts for certain groups of clients, or just operate on a complex pricing model, it can be hard to keep track of who is paying what for which products. In some businesses that information lives in one person's head or in hard-to-read spreadsheets that only a few even comprehend, creating the potential for chaos as employees move on and take that institutional knowledge with them. Wouldn't it be great if you could track your different rate levels in a single solution that automatically enters the correct price when the order is entered?
With aACE, you can.
aACE Rate Cards enable you to offer flexible pricing for a variety of situations. To learn more about this feature, let's take a look at how our sample company, aACME Education Solutions, uses it in their day-to-day operations.
Longtime aACME customer Highbridge Academy is a charter school that formerly served elementary school students only. Over the next three years they'll be expanding to include a middle school, adding a new grade level each year – and they'll need everything from textbooks to technology in order to outfit their new classrooms.
The school's Senior Purchasing Specialist, Stephanie Medina, calls Mara Harvey at aACME and negotiates a deal: Highbridge will commit to purchasing electronic whiteboards for their new classrooms as well as student tablets for each class in their new grade levels exclusively from aACME over the next three years. In exchange for that long-term contract, aACME will give Highbridge a 15% discount on the whiteboards and a 10% discount on the tablets and their accessories.
To enter this agreement in aACE, Mara creates a new rate card and titles it "Highbridge Academy Expansion". In the General Info section, she first sets the Rate Type to "Discount %" and the Rate Value to "10%"; this sets the rate card's default discount at 10%. Next she sets the rate card's start date to begin immediately, and the end date to expire three years later at the end of the 2022-2023 school year. The rate card won't affect the commission rates of the sales reps that take Highbridge's orders, so she sets the Comm Type field to "Not Applicable".
In the Description field, Mara records the deal that she negotiated with Stephanie so that anyone who has questions about the rate card can refer to that note.
Finally, in the Rate Card Items section, Mara enters the products that Highbridge will be getting at a discount. For the whiteboards, she unchecks the Default flag next to the Rate Type field, then sets the Rate Type to "Discount %" and the Rate Value to "15%". For the tablets and tablet accessories, she leaves the Default flag checked so those items will be discounted at the "10%" default rate. Any products that Highbridge orders that are not on this rate card will use standard pricing.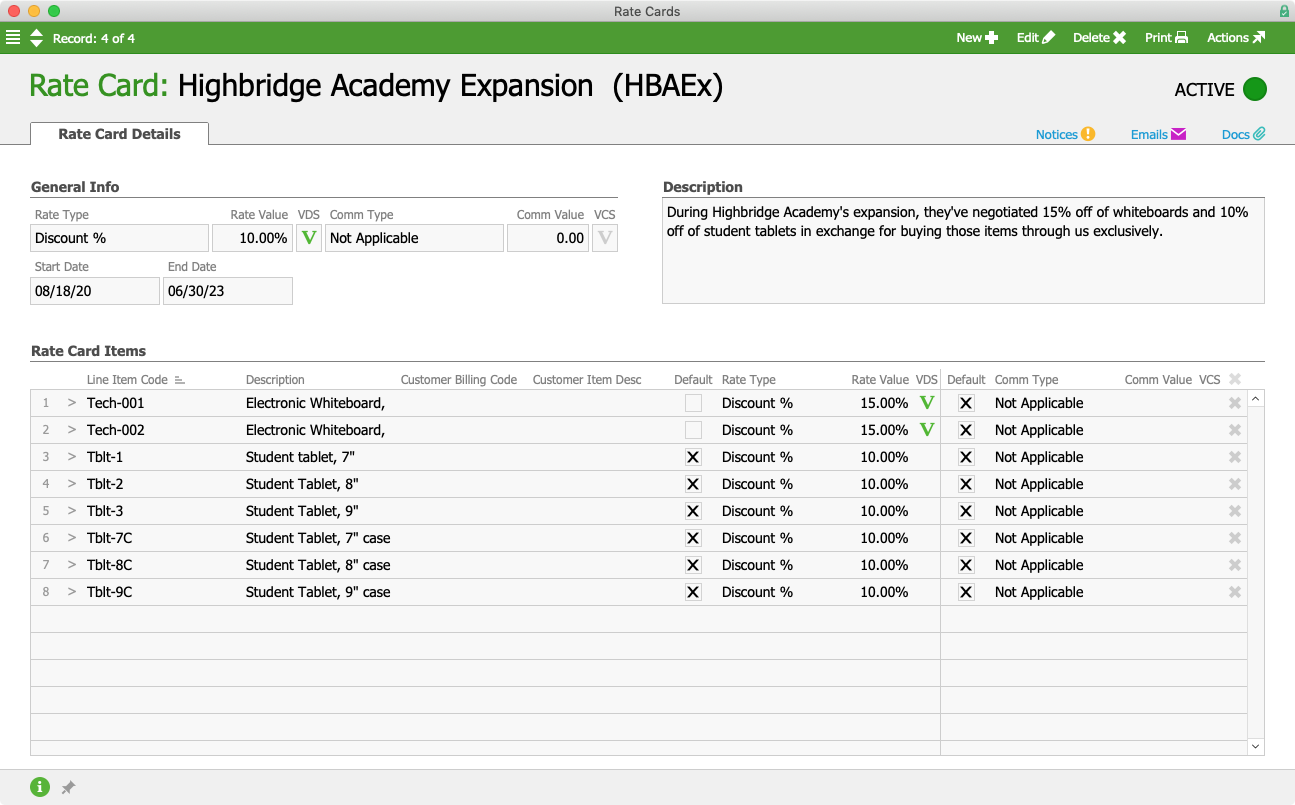 After saving and activating the rate card, Mara needs to attach it to Highbridge Academy in order to ensure that they receive the discounts automatically each time they make a purchase. To do that, Mara navigates to the Customer Details tab in Highbridge's Company record. She enters Edit mode and chooses the correct rate card from a drop-down menu in the Billing Setup section.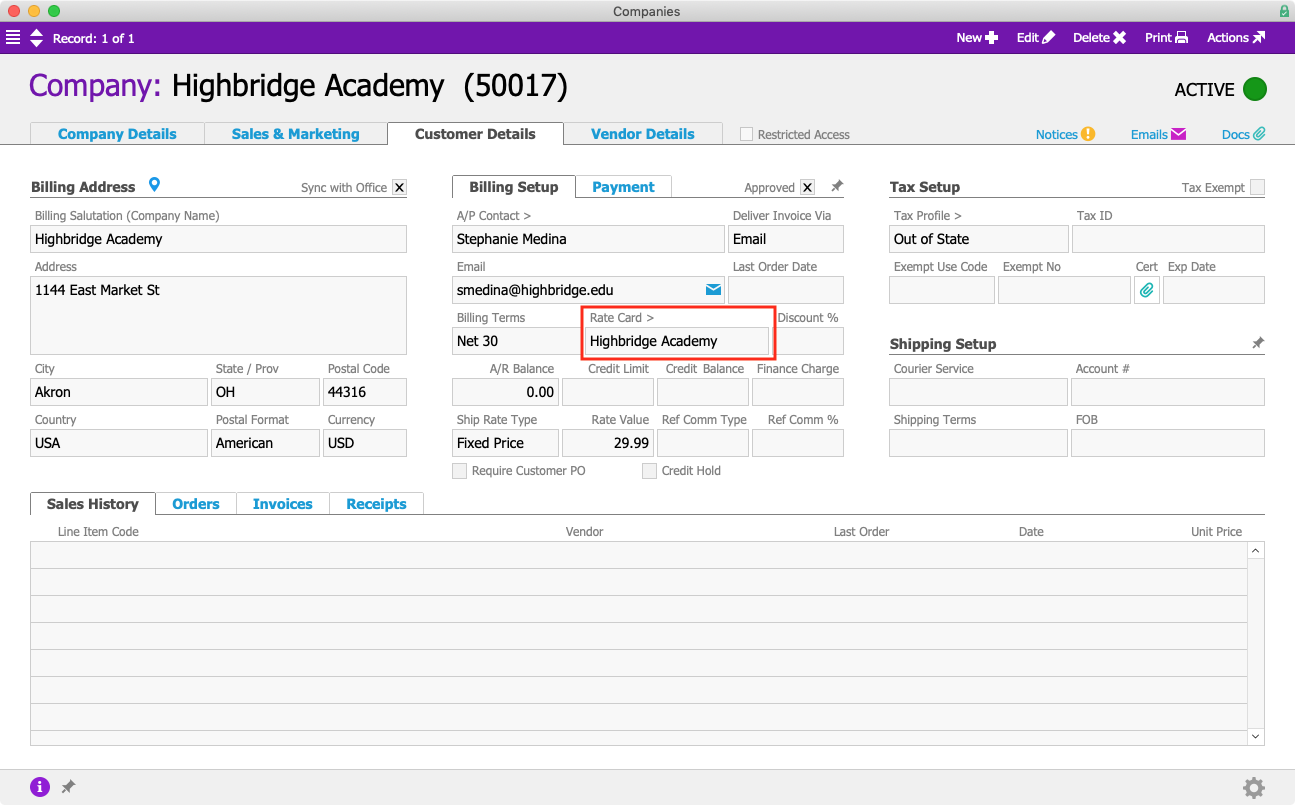 Now whenever Highbridge places an order, aACE will automatically apply the correct rate card – saving aACME's sales reps the time and potential for human error that comes with having to remember each customer's discounts and apply them manually.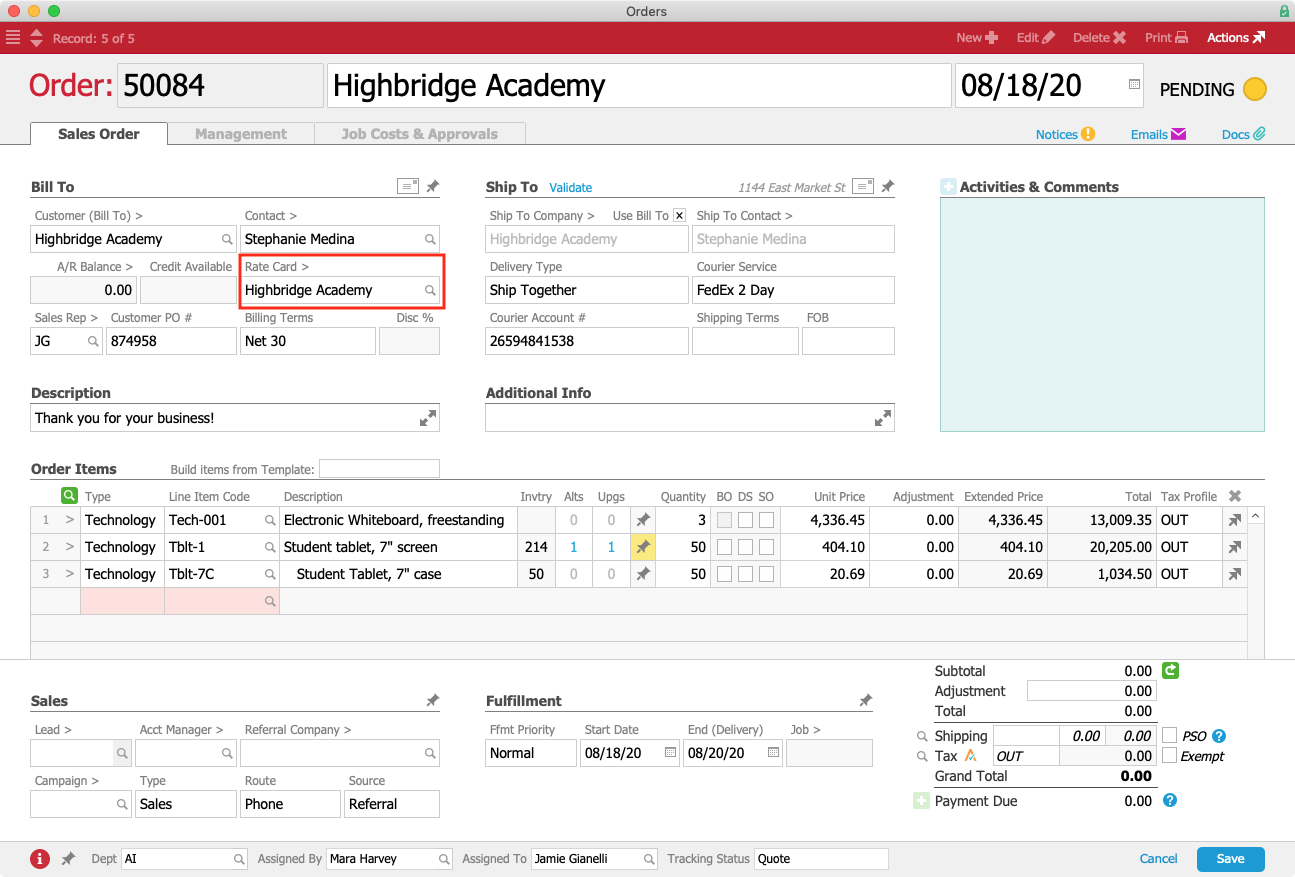 When the sales rep hovers over the Unit Price field, a tooltip breaks down the pricing by retail unit price, rate card price, any volume or other discounts, and suggested price.

But what if you want to offer special discounts to particular customers, like first responders or members of the military? aACE Rate Cards make that easy, too.
aACME typically sells educational materials to schools and afterschool programs, but due to the recent widespread shift towards distance learning many parents have reached out directly to inquire about their products. To help ease the burden of digital education on already-stressed families, aACME institutes a special 20% discount on student tablets and educational software for homeschoolers. To do this, aCME's VP of Sales Martin Stroman creates a new rate card.
He starts by filling in the general information, including the 20% default discount rate. He sets the rate card's start date to begin on August 1st; because he plans to run the program indefinitely, he leaves the end date blank. He wants to incentivize his sales team to encourage sales from this new market, so he sets the commission rate to "4%", up from the usual 2.5%.
Martin records the program's rules in the Description field, and then adds the tablets and software to the Rate Card Items section. Due to the number of software titles aACME carries, Martin adds them all using the 

button instead of manually looking up the product code for each one.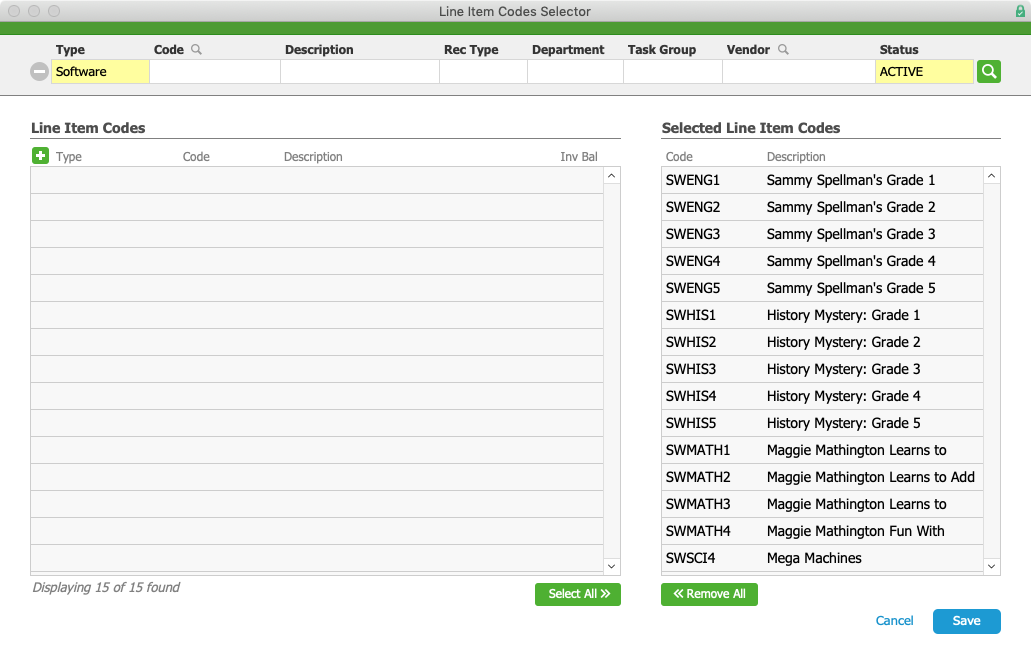 Because all of the tablets and software programs are being discounted at the same 20% rate with the same 4% commission, he simply leaves the Default flags checked and activates the rate card.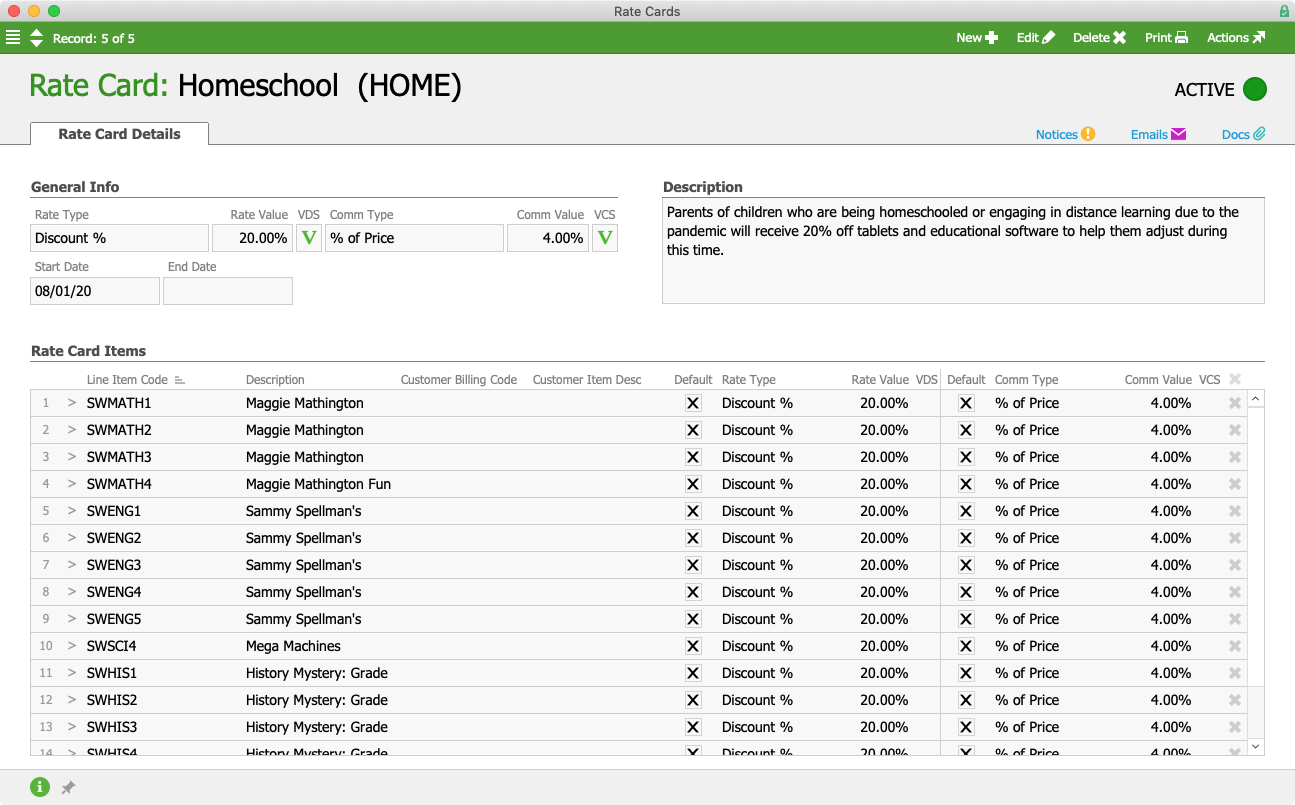 aACME sales rep Jamie Gianelli gets a call from Abby Ellison, a parent who is preparing to homeschool her third- and fifth-graders. Although they'll be following along with the curriculum provided by her children's teachers, Abby wants to supplement those daily Zoom calls and worksheets with some fun yet educational games. And of course, her kids will need their own tablets in order to keep up with their schoolwork. Jamie talks Abby through a few options and fills in her order accordingly.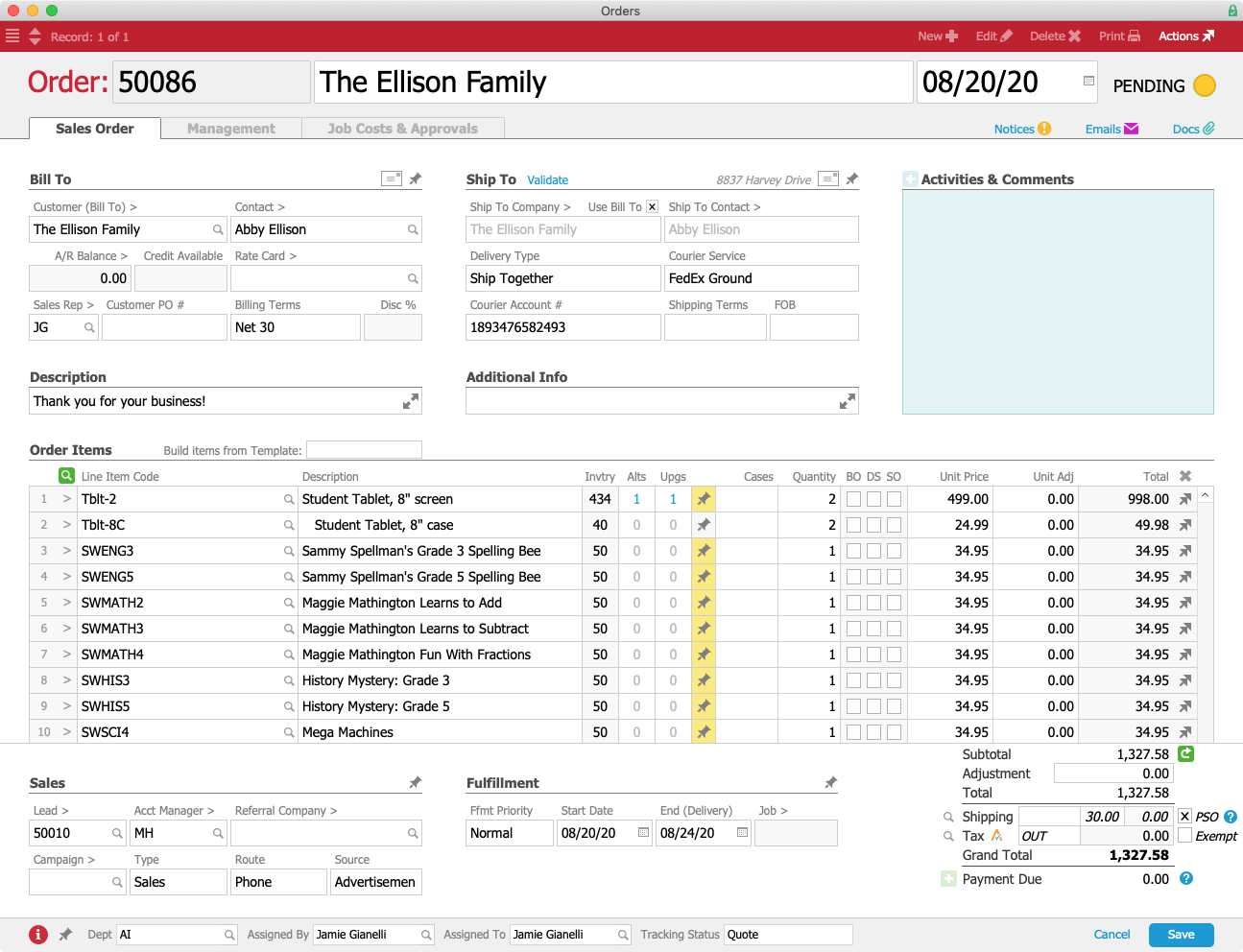 Once all of the products that Abby wants to buy have been entered, Jamie selects the "Homeschool" rate card from the Rate Card drop-down menu. aACE automatically updates the prices of each line item code to include the 20% discount.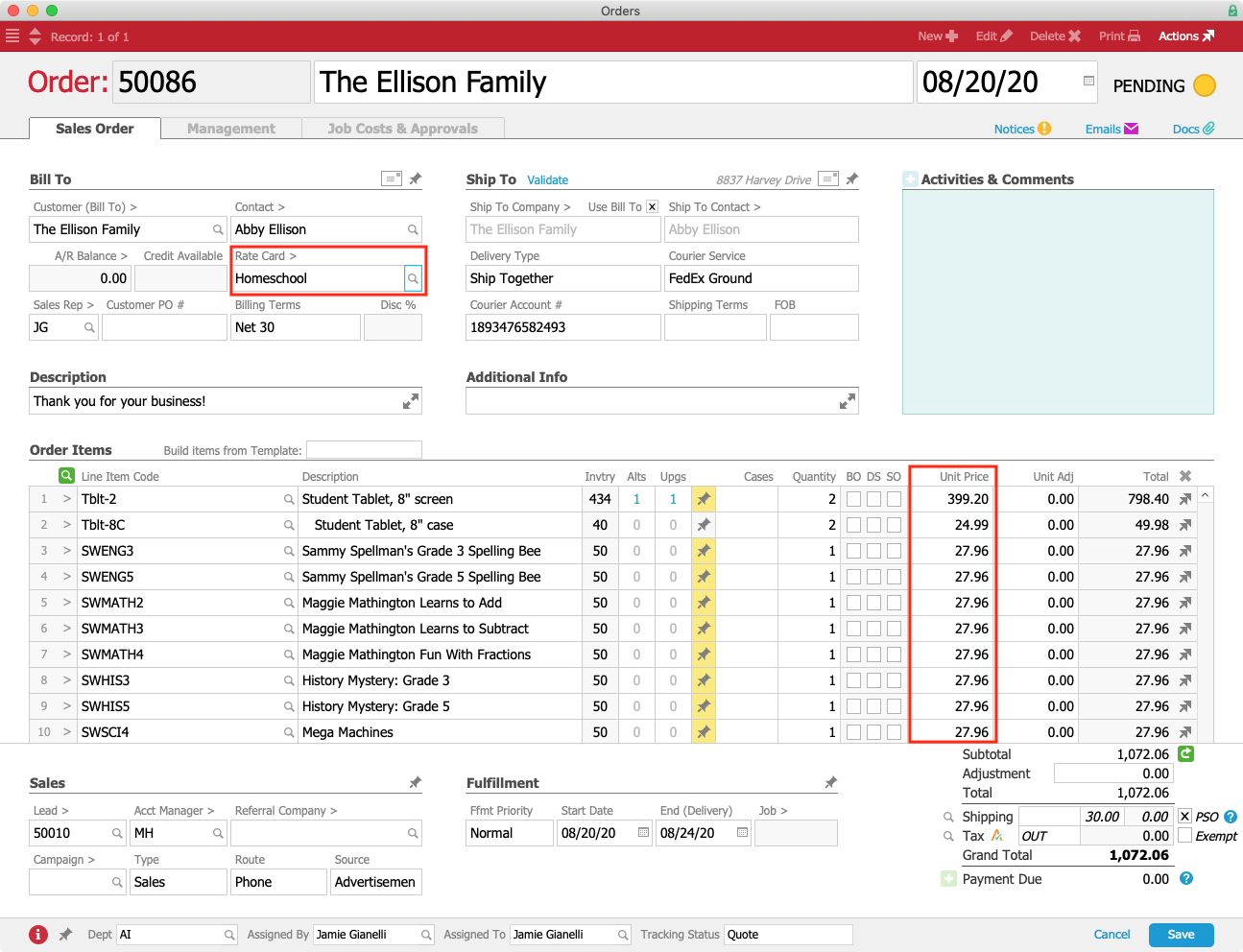 And if you want to set special rates for a group of customers all at once, aACE also supports batch updates!
aACME implements a new rate card for high schools, offering a 5% discount on whiteboards and other classroom technology. Rather than attaching the rate card individually to each high school's order, Martin searches for all customers with "High School" in their names in the Companies module. Once he has that list, he opens the Actions menu and selects "Update Rate Card for List".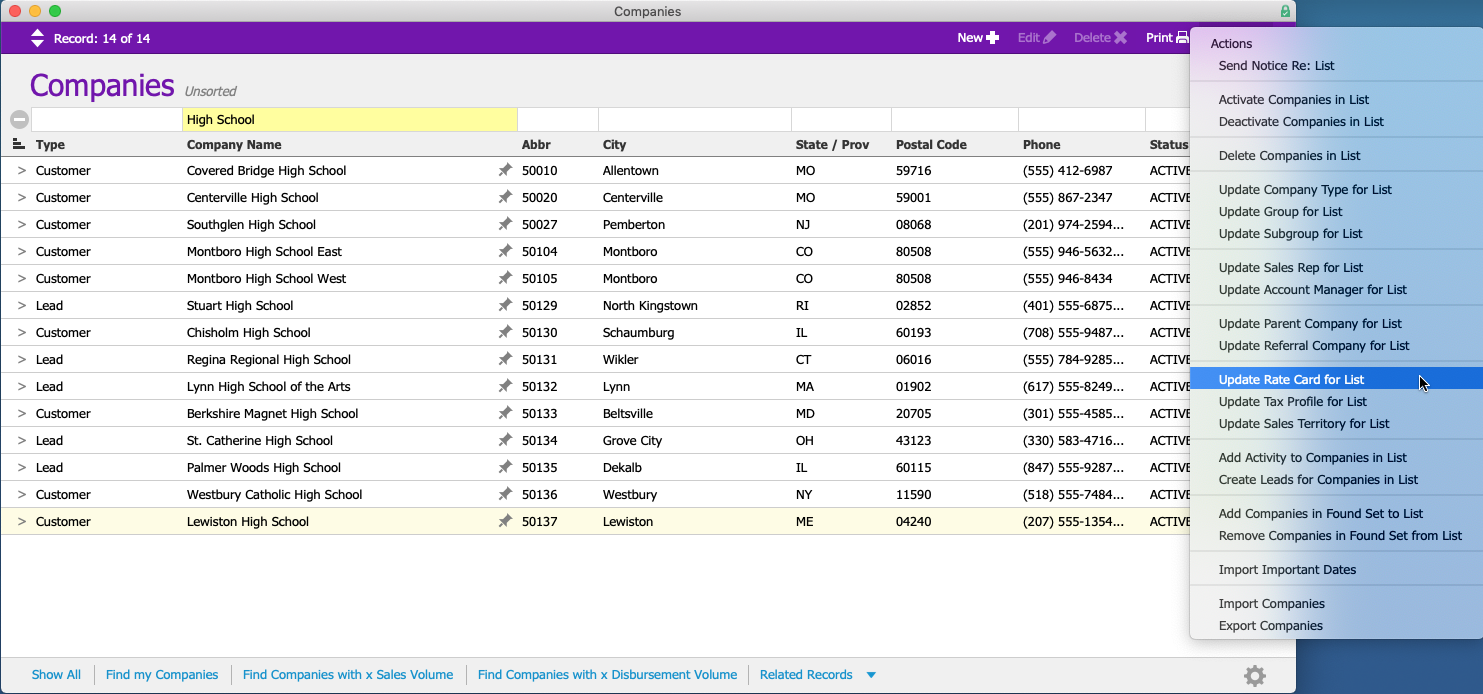 A dialog box pops up asking Martin if he wants to update the rate card for all of the companies in his list.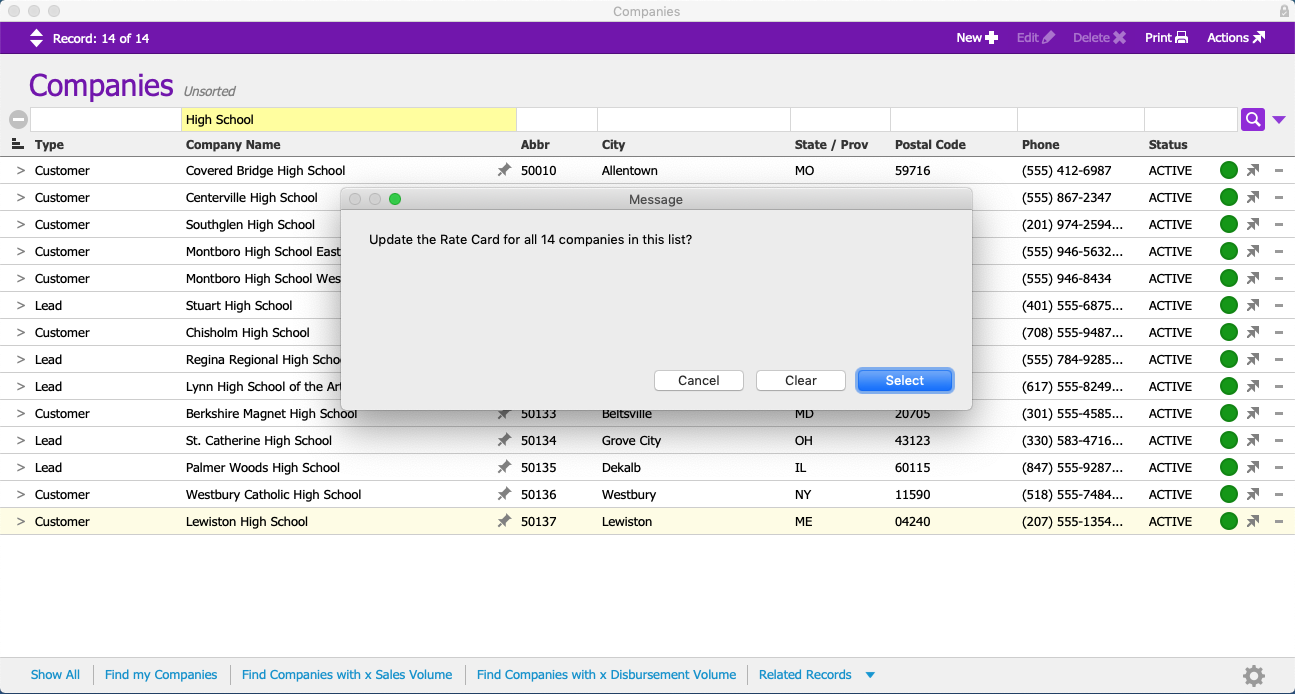 Martin clicks "Select", and aACE opens the Rate Card Selector. This allows him to choose the applicable rate card from a list of rate cards that are currently active.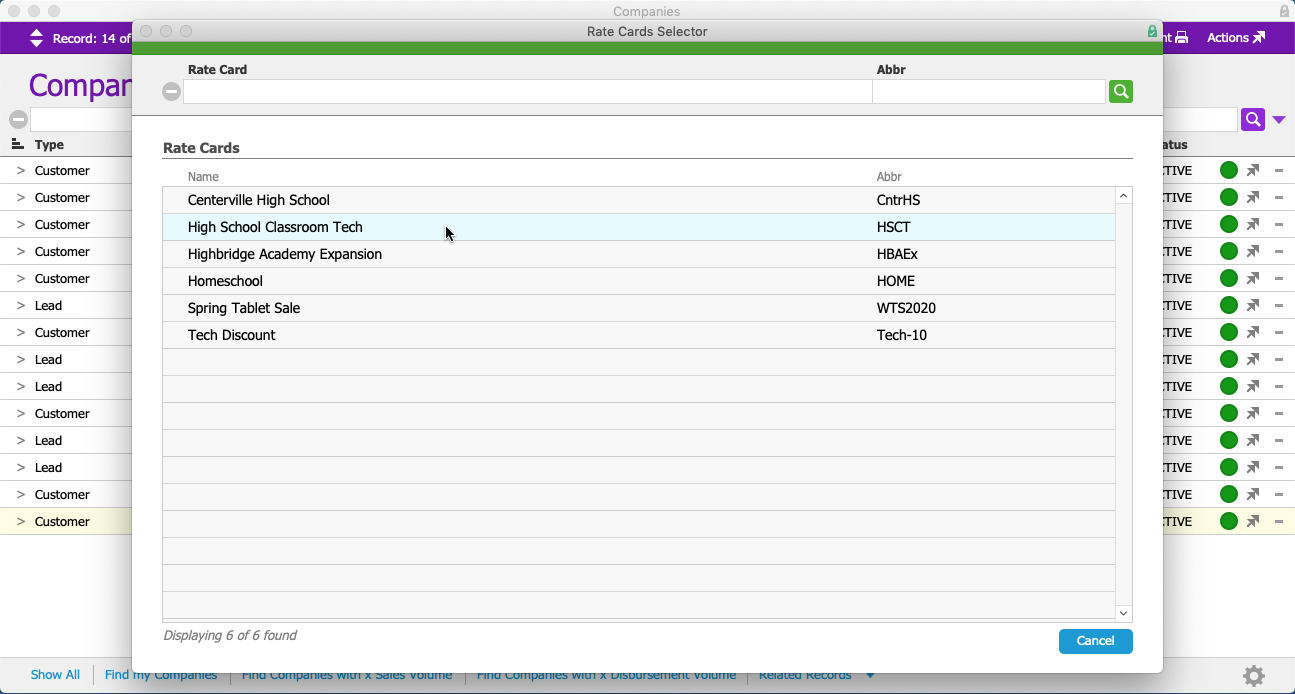 Martin chooses the "High School Tech Discount" rate card, and aACE automatically attaches it to each of the companies in his list.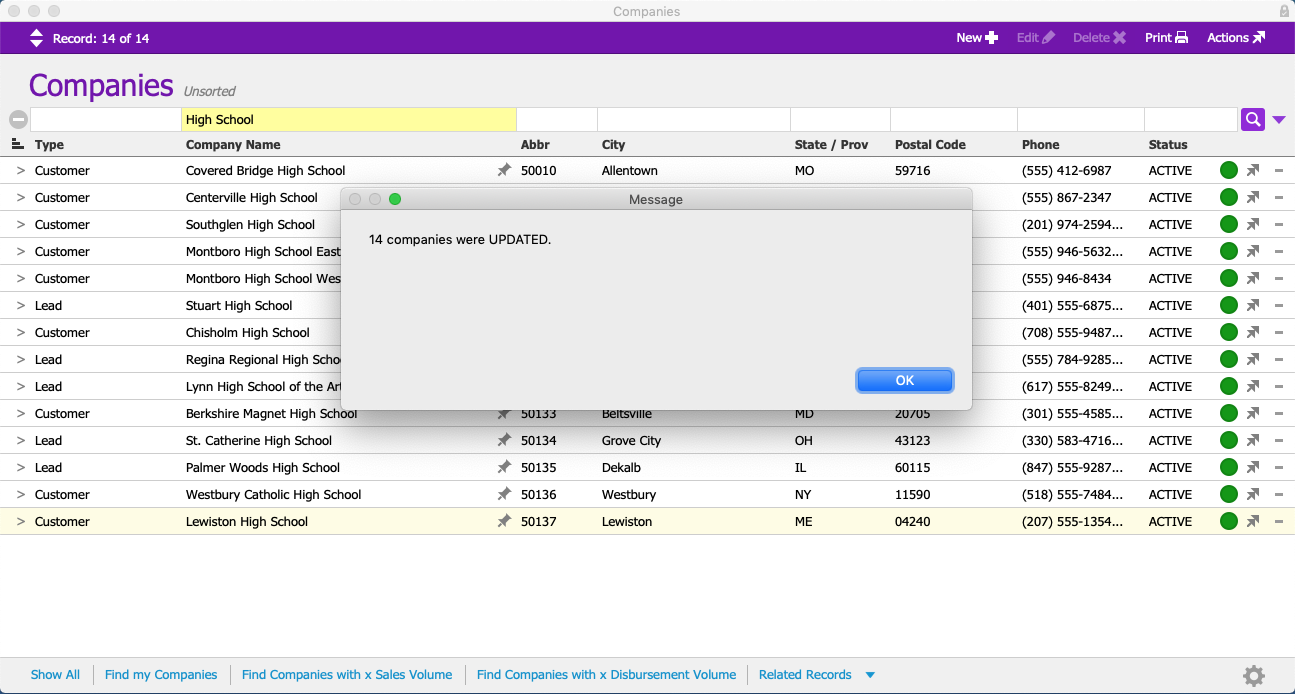 We've seen how aACE's Rate Cards help you automate flexible pricing for particular customers, groups of customers, or groups of items. But what if you need to adjust the pricing on a long list of items — too many to enter manually?
aACE helps with that, too.
As part of their back-to-school offerings, aACME is holding a sale on all of their educational technology. Rather than enter each product individually, Martin navigates to the Rate Card Items module. From there, he can import a spreadsheet containing each of the thousands of products that are going to be on sale — along with their adjusted price rates. He can also adjust the rate types and values, the commissions types and values, or the volume discounts and commissions for all of the items in the list, all with the click of a button.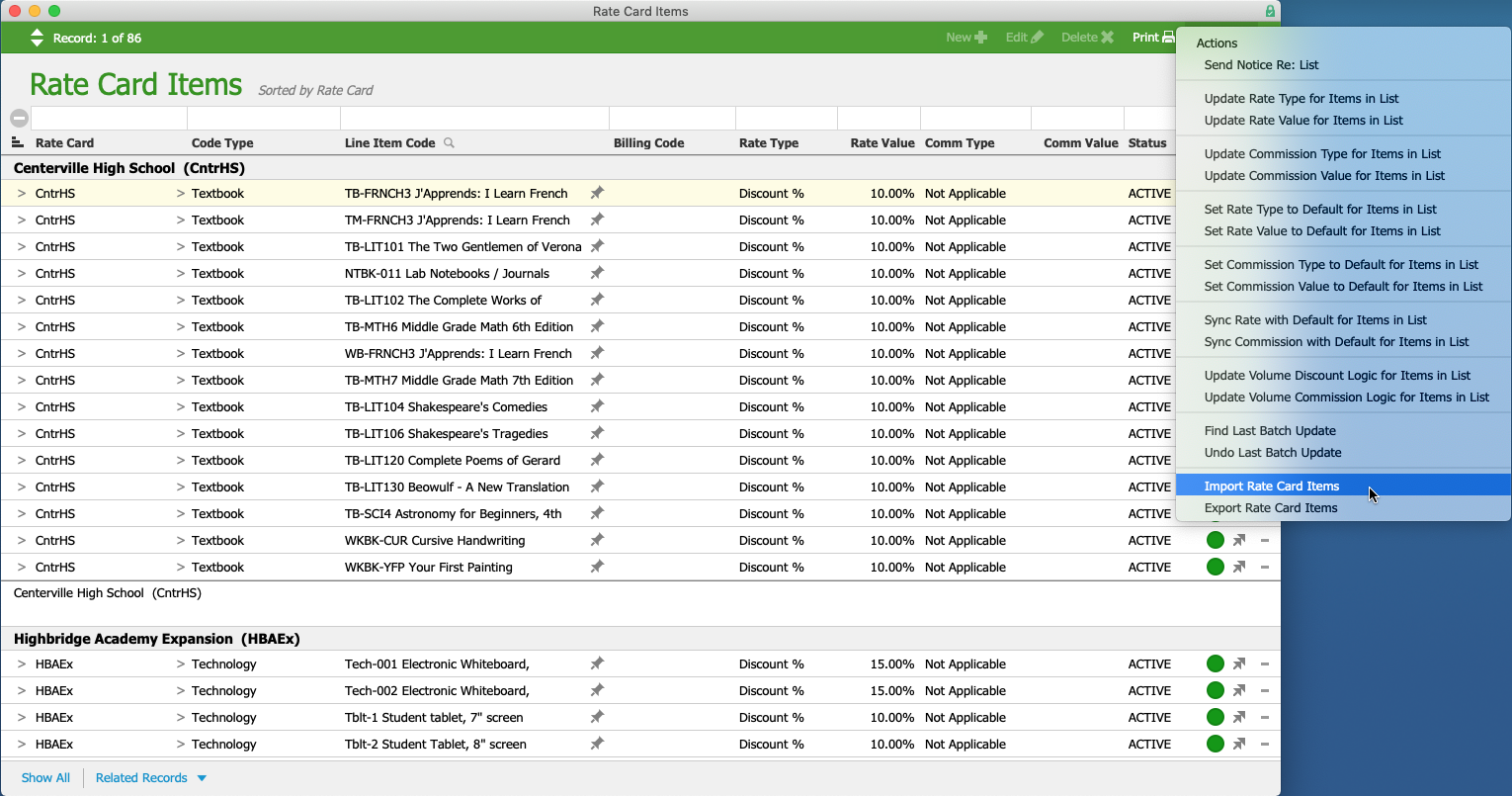 Rate cards also offer aACME the ability to store their own customers' billing codes in aACE. The New Start Academy Charter School, a longtime aACME customer, requires both aACME's product codes and their own product codes to appear on various documents. Their rate card lists all of the products they buy from aACME along with their own product codes.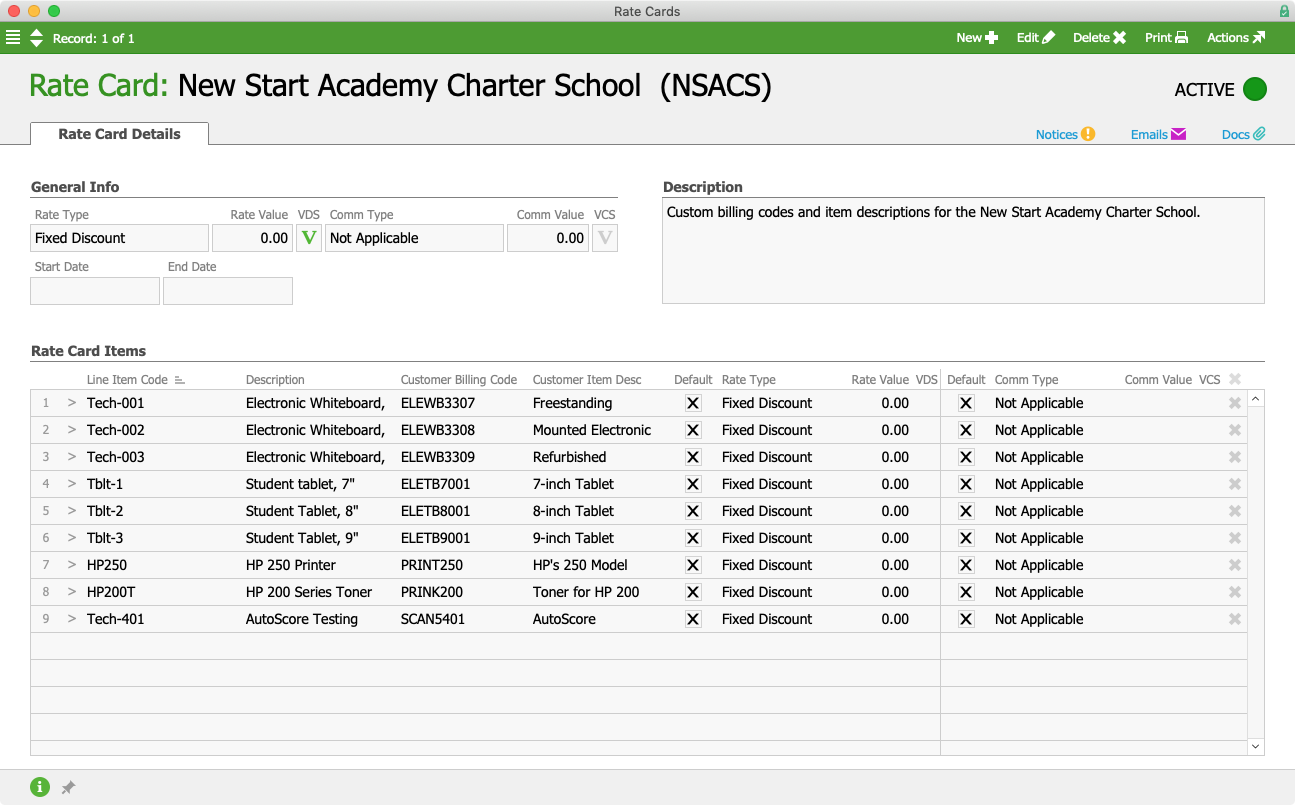 When Jamie receives an order from New Start Academy for three electronic whiteboards, she enters aACME's code for the item, "Tech-001", into the order. aACE automatically pulls in New Start's product code, "ELEWB3307". Only New Start's code appears in the order's print view, which is sent to New Start as confirmation that the order has been processed.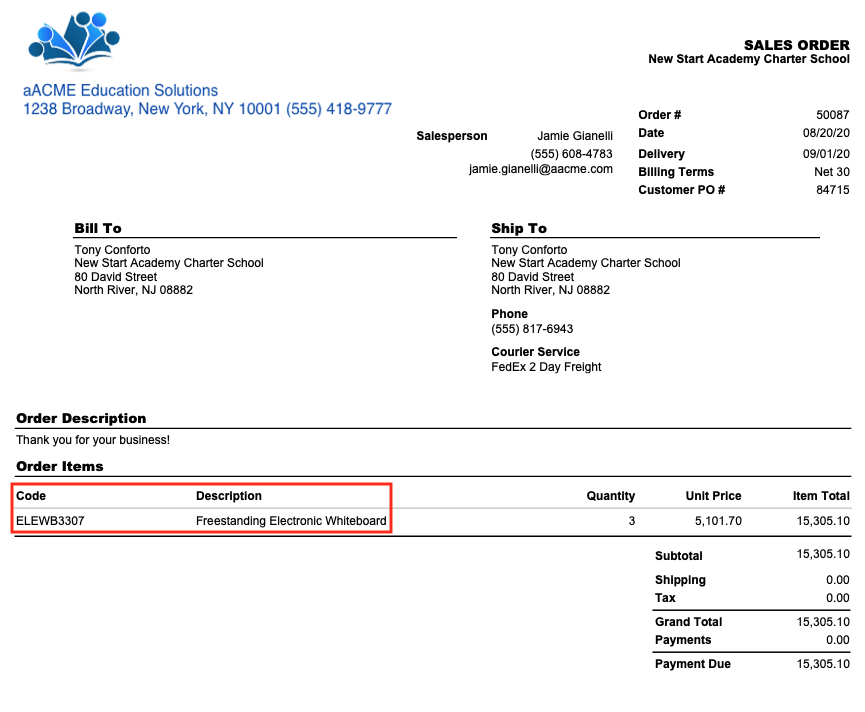 aACE's Rate Cards allow you to set flexible pricing and commission rates, allowing you to take control over your pricing and eliminate the manual data entry that can lead to errors and wasted time. To learn more about what aACE can do for your business, register for a webinar today.
"[With aACE 5] I can pull up the appropriate rate card and change the pricing on all the products in one window. That's a HUGE time saver! Overlapping promotions are more possible and simpler to manage in aACE. I also like that I can affect the same change on multiple accounts with one or two simple steps. The more I use this program, the more I love it!" – Joni Jarnagin, Marketing & Key Accounts Manager, Redd Remedies