Powerful accounting
software for SMBs
Intuitive reporting, budget forecasting, sales tax calculation, payment processing & more
aACE's full-featured, integrated accounting suite allows managers to track a sale from the lead to the balance sheet without duplicate data entry. A true quote-to-cash solution, increase visibility into your business's financials, save time, and reduce the potential for errors with aACE.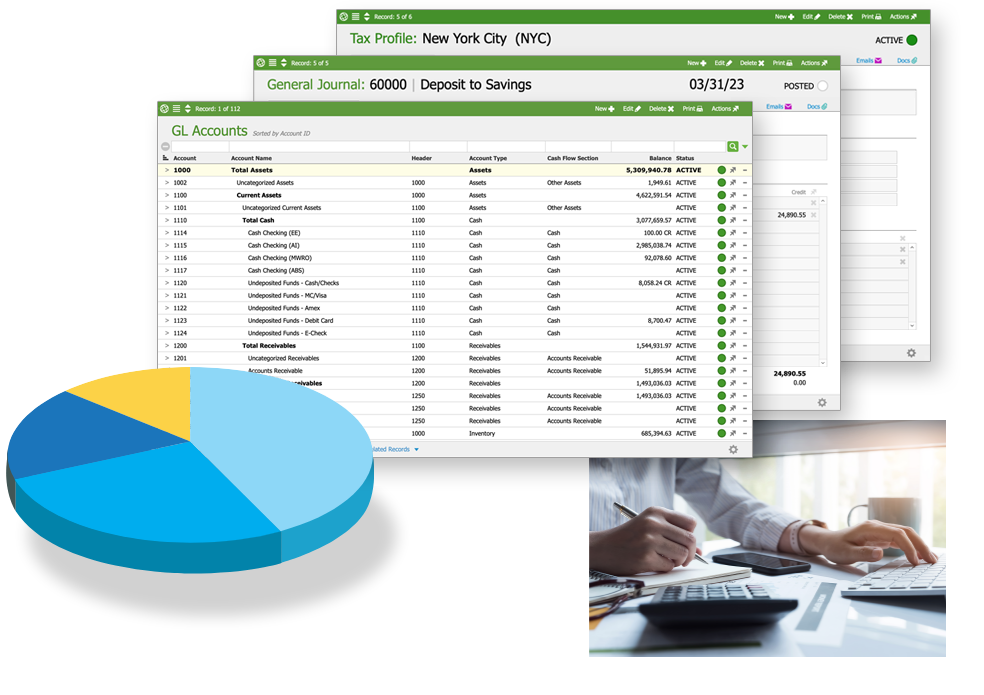 360º Visibility into Your Business

Empower your controller with the ability to follow a transaction from a credit on the income statement all the way back to the sales lead, and any point in between.
Know exactly who did what, when. Detailed and easily accessible log records means visibility, and visibility means accountability.
Solve the mystery surrounding your cost of goods sold. aACE's reconciliation process provides accurate, auditable landed costs for all inventoried items using LIFO, FIFO, and specific-unit mapping.
Know whether you're achieving your goals where it counts: the bottom line. Create as many budgets as you need for any office or department for any time range.
Automate Routine Workflows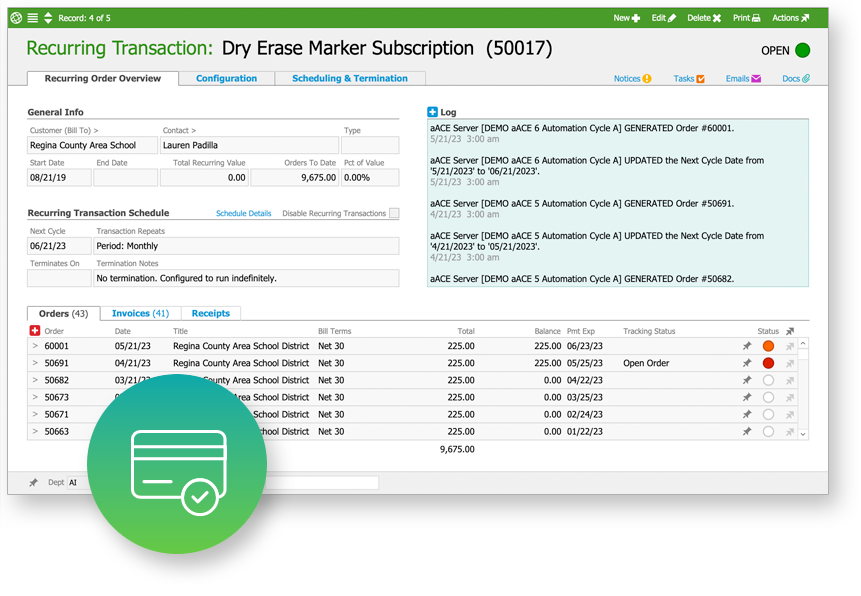 Set and forget your recurring transactions. Automatically generate orders, invoices, general journal entries, and more on a set schedule that can be configured to run as long as you need or end when the transaction reaches a specified date or dollar amount.
Integrated Payment Processing
Save time, eliminate separate terminals, and improve PCI compliance with our fully integrated credit card, debit card, and ACH payment processing solutions that keep sensitive data secure.
Securely Manage Your Entire Business
Run as many departments, offices, or even businesses as you need within the same solution. Easily produce consolidated or entity-specific financial reports.
Reduce Sales Tax Audit Risk
Calculate sales tax based on the delivery location or customer specific settings. Optionally, integrate Avalara AvaTax for automated calculations based on the GPS coordinates of the delivery address.
Reduce the threat of fraud using sophisticated user access privileges to implement strong segregation of duties. Oversight notifications also alert managers to possible problems before they spread.