You invest a lot of time building relationships with key contacts on behalf of your company. Whether it's nurturing prospects through the sales pipeline, connecting with vendors who can provide vital services to your business, or keeping apprised of your employees' important milestones, chances are you have a long list of people and companies whose relationships are valuable to your organization. Wouldn't it be great if you could set reminders to reach out to them on important dates right from within your CRM?
With aACE, you can.
aACE makes it easy to record important dates and send reminders to go out to one or more team members via aACE notices, emails, or text messages – so you're always there for your contacts when it counts.
To learn more about this feature, let's look at how our sample company, aACME Education Solutions, uses it in their day-to-day operations.
Out of the box, aACE contains a number of notices that can be auto-generated by the system and sent to designated teams or team members when certain conditions are met. The Important Date Reminder is one such notice. Merge fields allow aACE to pull relevant information — like the title, date, and description of the event — directly from the record that generates the reminder.
By default, the reminder is set to go out through aACE's internal Notices system. But because not everyone who needs to receive these reminders is an aACE user, aACME's system administrator also enabled the reminders to be sent out via email and text message (SMS). For notices that are sent out to multiple people or entire teams, the Single User Completion flag is checked so that one person can mark the notice as complete for everyone who receives it.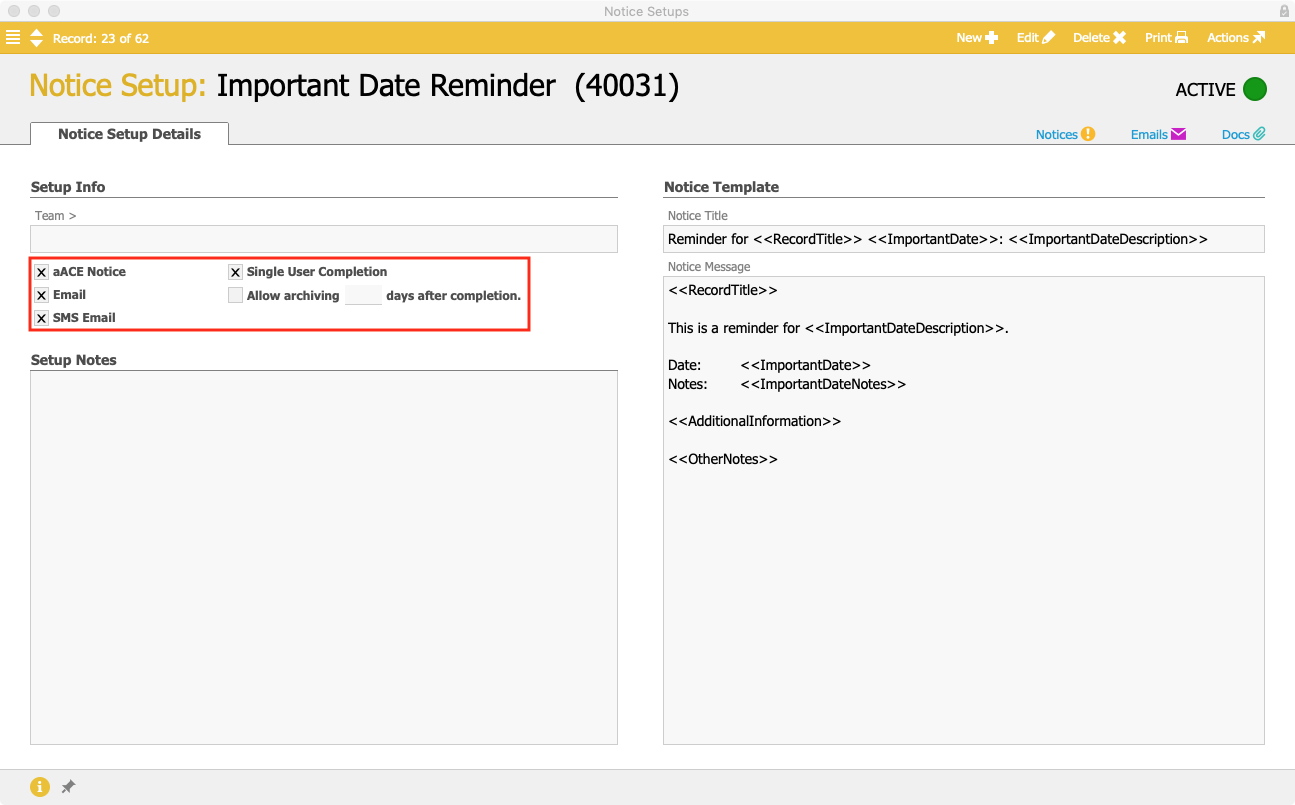 Recently aACME hired Shawn Russel as a new Production Assistant. When Pete McNeil, aACME's Director of HR, creates Shawn's Team Member record in aACE, he fills in Shawn's date of hire and his birthday in the "Important Dates" section of the Human Resources tab.
For each date, Pete fills in a description of the date, any notes associated with it, which team member or team should get a reminder, and when that reminder should go out. For Shawn's Hire Date, he has the reminder sent to the entire HR team; for Shawn's birthday, the reminder will be sent to Shawn's manager, Evan Phillips. Pete also flags the "Annual" check box, ensuring the reminders will go out every year.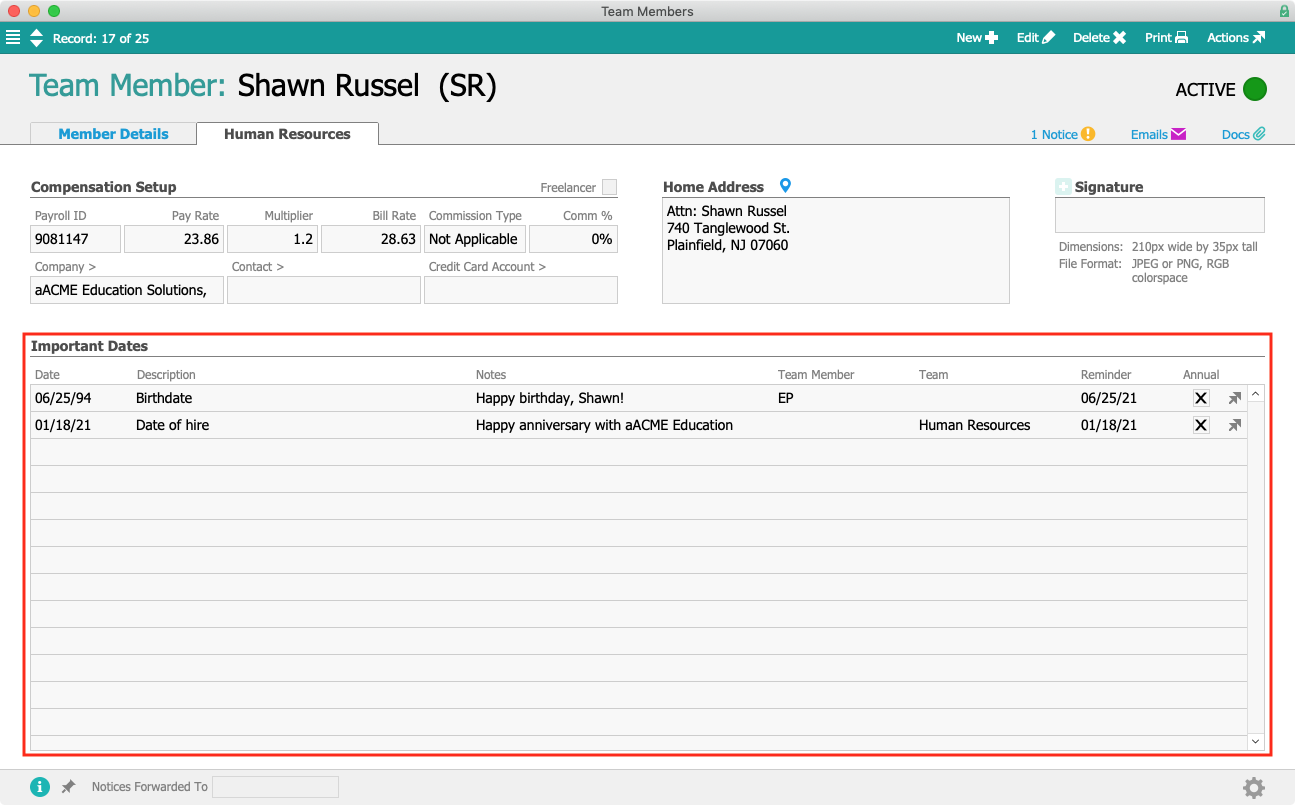 When Shawn's birthday rolls around, Evan receives a reminder via an aACE Notice.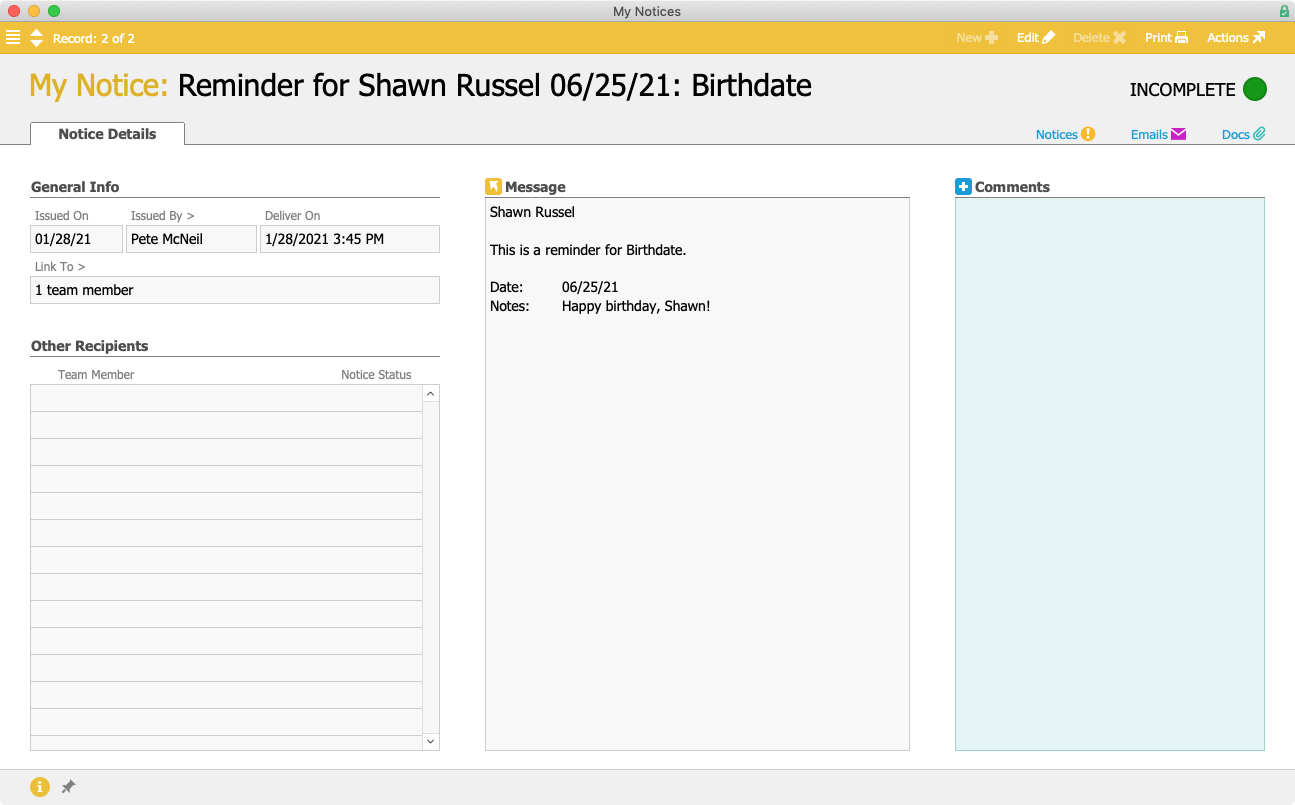 Because Evan's Team Member record contains his email and SMS addresses, the notice is also delivered right to his phone, reminding him to wish Shawn a happy birthday right from the shop floor — without needing to be logged into aACE at a physical workstation.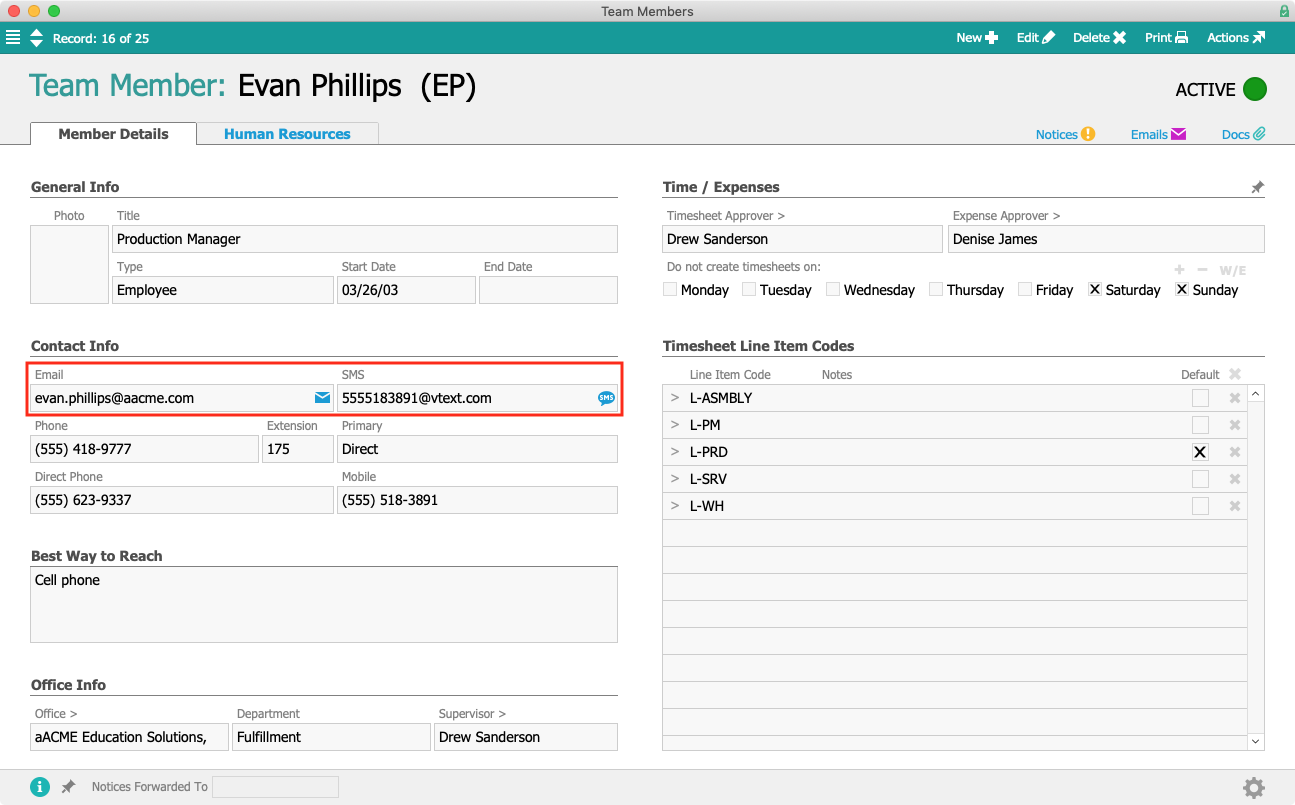 Because your customers and vendors have important dates too, aACE also allows you to store important dates in Company records.
Brightside Charter School is a longtime aACME customer. While placing an order, CEO Luisa Ramos happens to mention to her account manager Mara Harvey that the school is preparing to celebrate its 15th anniversary the following summer on August 20th. After ending the call and processing the order, Mara navigates to Brightside's Company record to make a note of the celebration.
As in the previous example, Mara fills in the name of the event, a description, relevant notes, and the date. She has the notice sent to aACME's entire Sales team, so if Mara herself is out of the office on that date, someone else in her department will be able to fill in. Since the 15th anniversary is a one-time occurrence, Mara does not check the Annual flag.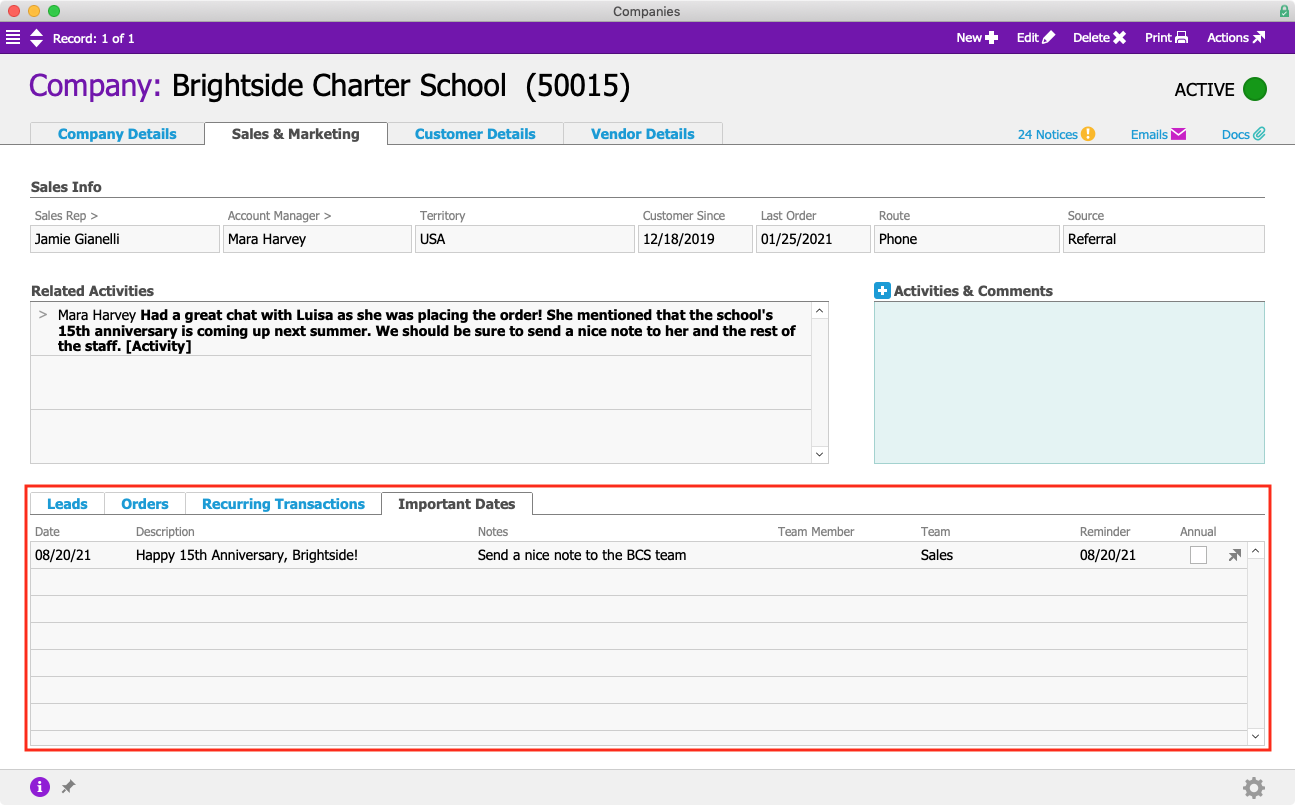 Months later, it turns out that Mara is indeed away from the office on Brightside's big day. But that's no problem, because the notice goes out to the entire Sales team.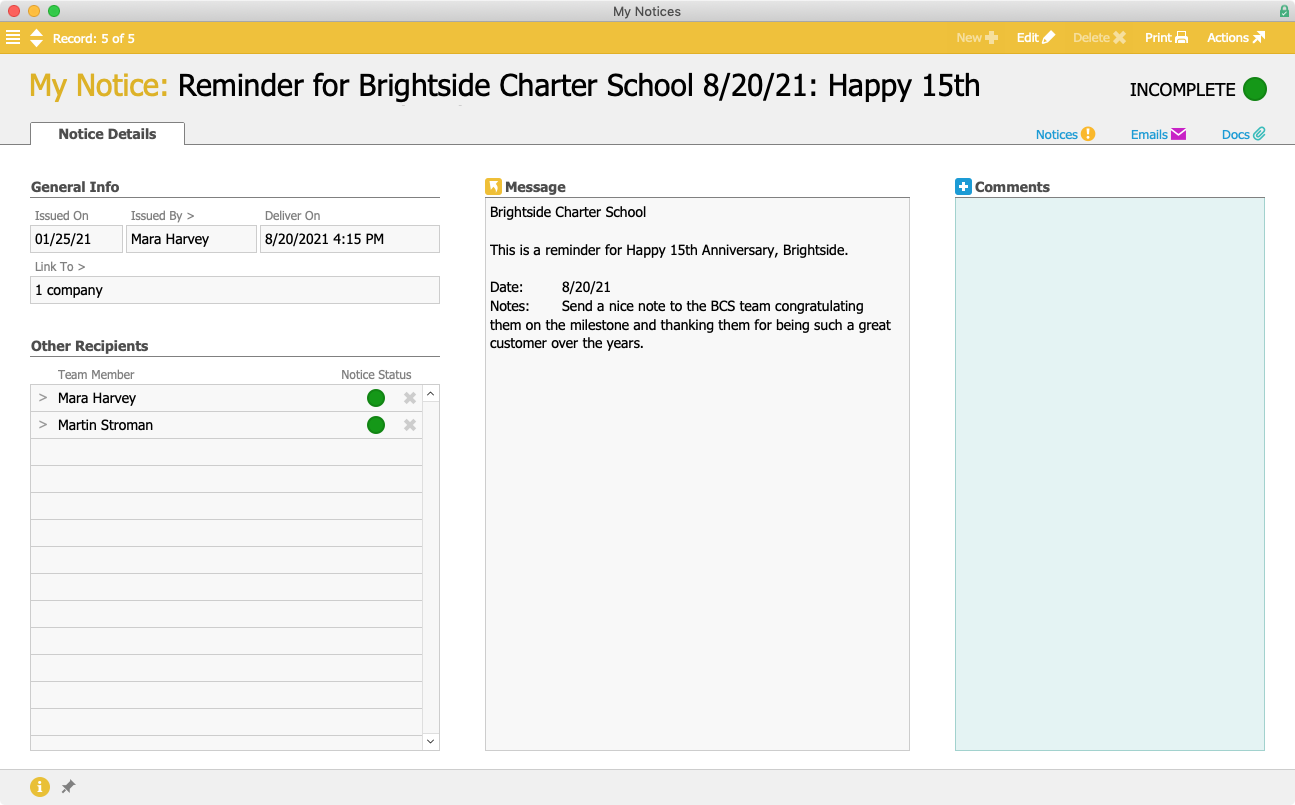 aACME Sales Rep Jamie Gianelli sees the notice and sends a nice email to Luisa and her team, congratulating them on the school's milestone. She then marks the notice as completed in aACE, which also completes it for everyone else who received the reminder so that no one sends out a duplicate message.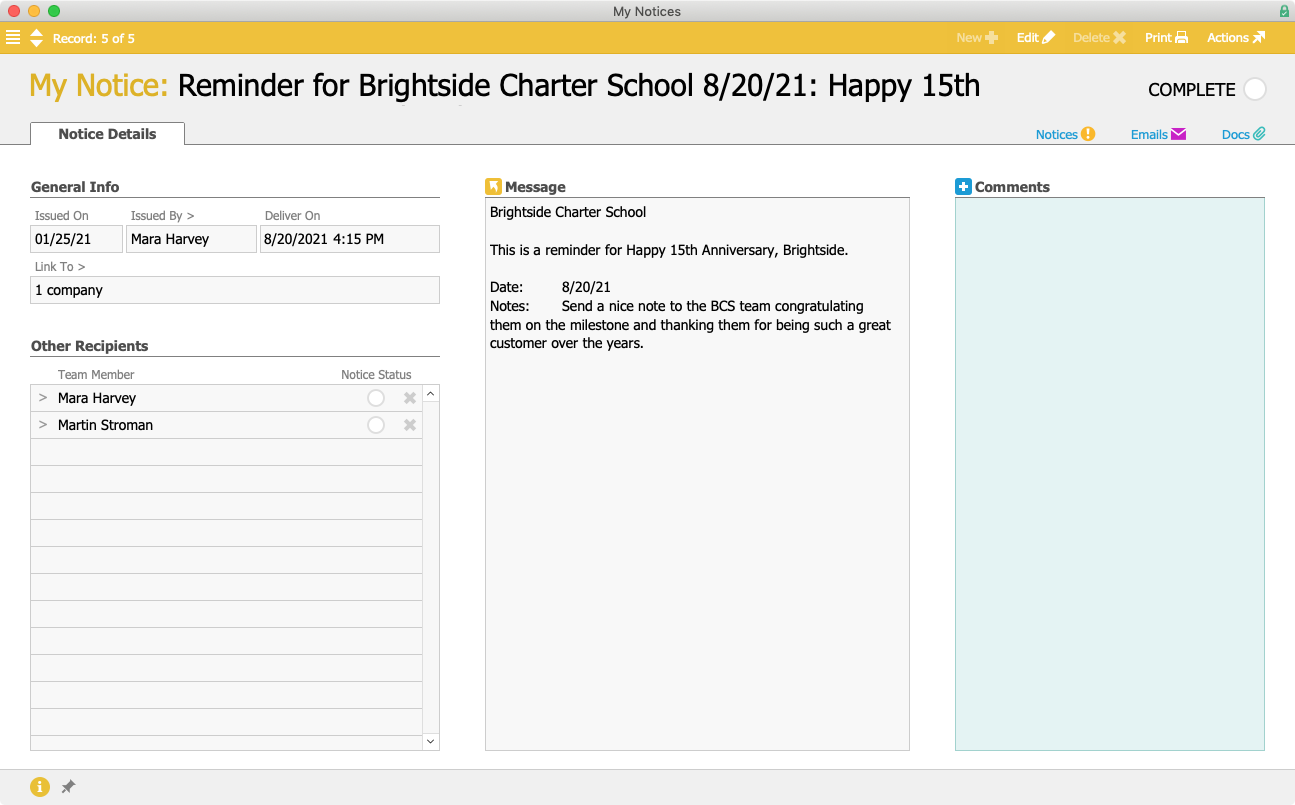 And if an individual at another company has an important date coming up? aACE can remind you of that, too.
Alexis Kohn in aACME's Accounts Receivable office has a close working relationship with Erica Dawson at the Montboro School District, one of aACME's biggest customers. Erica goes on vacation every year for the second half of July to visit relatives overseas — so it's important that any outstanding invoices are sent to her office by the first week of July. To prompt herself to get those invoices out early, Alexis sets an important date reminder in Erica's Contact record.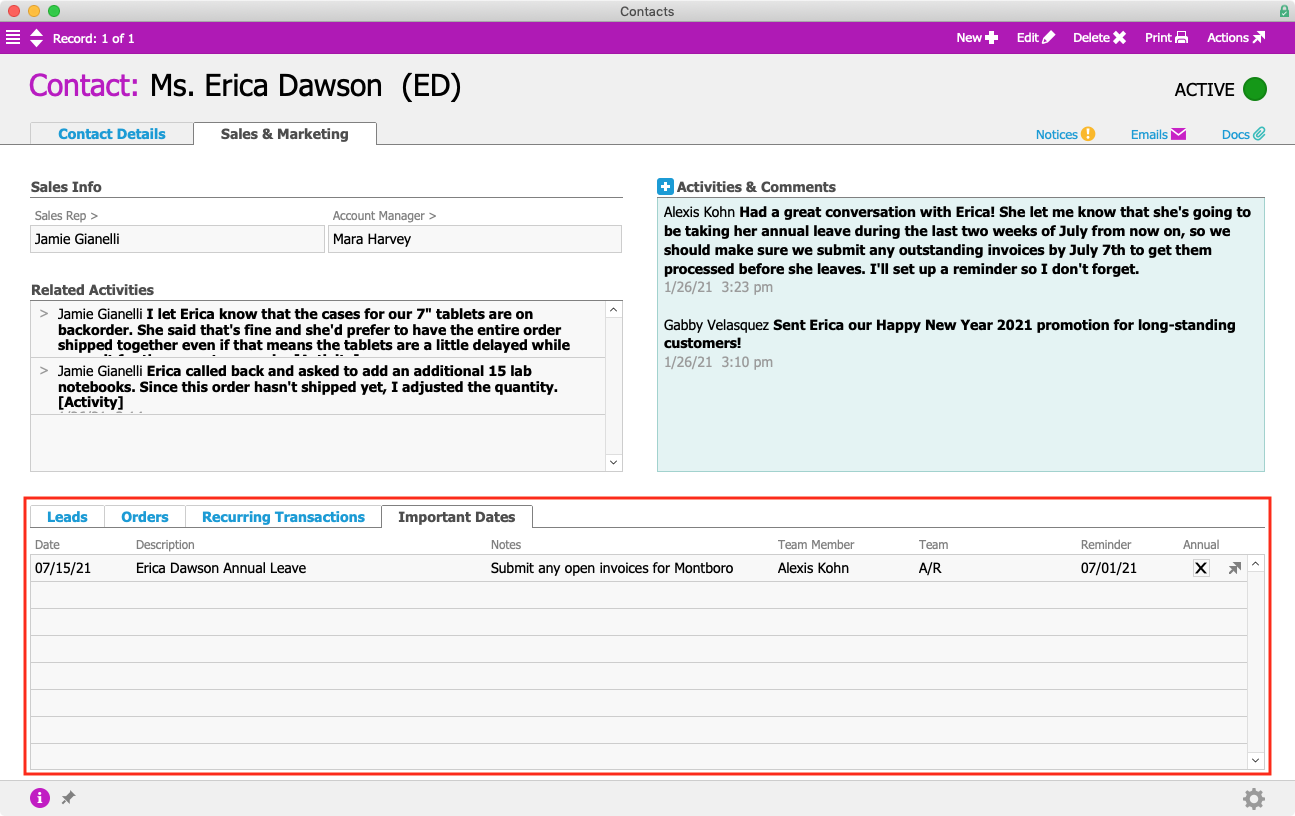 On July 1st each year, Alexis receives a Notice to email any outstanding Montboro invoices to Erica before her trip.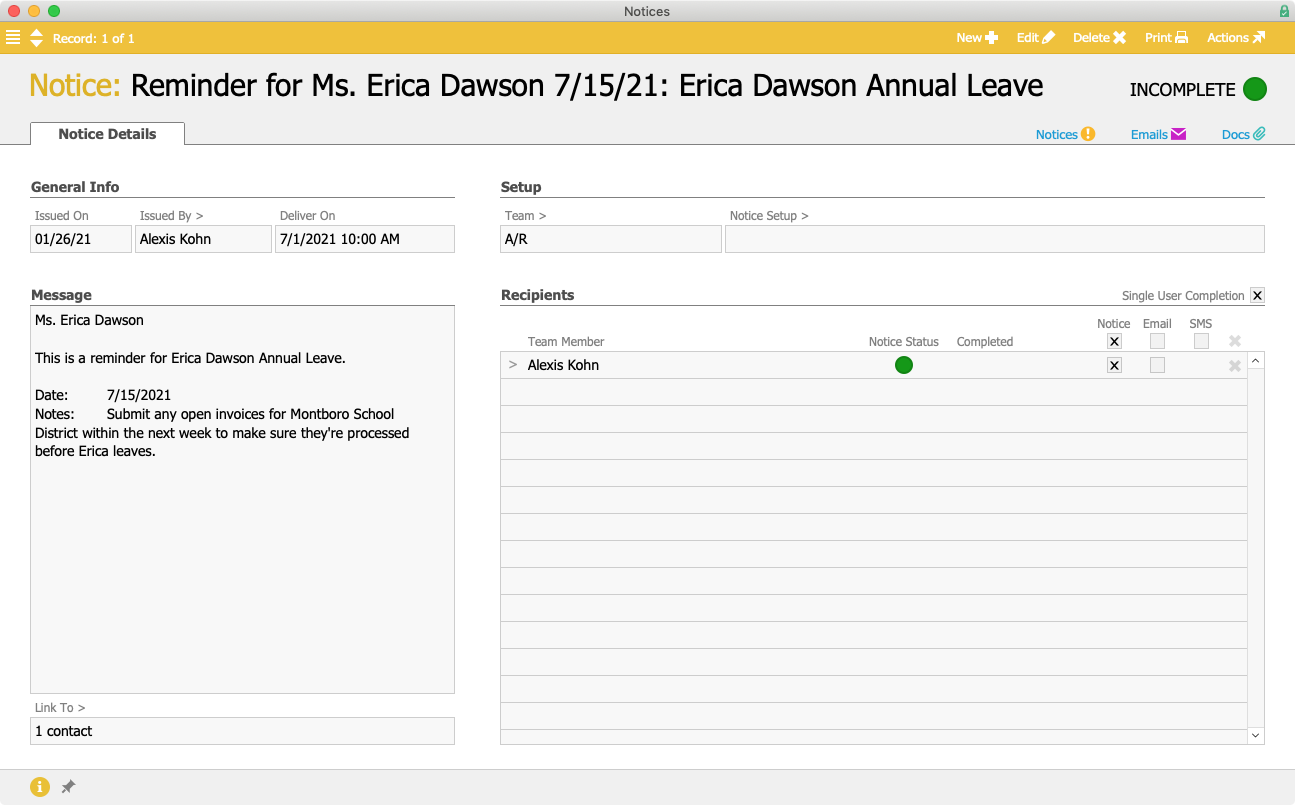 aACE's Important Dates reminders help you nurture your professional relationships and strengthen your network. To learn more about how aACE can help you take your business to the next level, register for one of our upcoming webinars today.