Managing the financials for one office can be tricky enough. Add in multiple locations or even multiple separate businesses, and you may find yourself having to choose between separate accounting solutions that don't talk to each other or a single solution that commingles data from each entity, forcing you or your accountant to spend time manually separating out the information you need. Wouldn't it be great if one solution could give you a clear picture of your entire financial situation?
aACE does that.
With aACE, you can track data from different locations, different offices, or even different brands in one comprehensive yet easy-to-use solution. Powerful segregation-of-duties tools allow you to control which parts of the system each user can access, while aACE's reporting tools allow you to refine financial statements to different entities within the same solution. To see aACE's multi-entity accounting features in action, let's take a look at how our fictional company, aACME Education Solutions, manages multiple brands in aACE.
aACME Education Solutions sells technology, textbooks, and classroom resources for students, teachers, and school administrators. They have a regional outlet in the Midwest that sells clearance products at a discount under the aACME brand. They also conduct in-school educational programs under the Education Elite brand, based in Texas. aACME and Education Elite are two separate companies operating under the same ownership, but aACME can sell EE products and programs.
In aACME's aACE solution there are three separate office records: aACME Inc., the Midwest Regional Outlet, and Education Elite. Each office has its own specific addresses, tax ID, departments, team members, inventory locations, and report branding.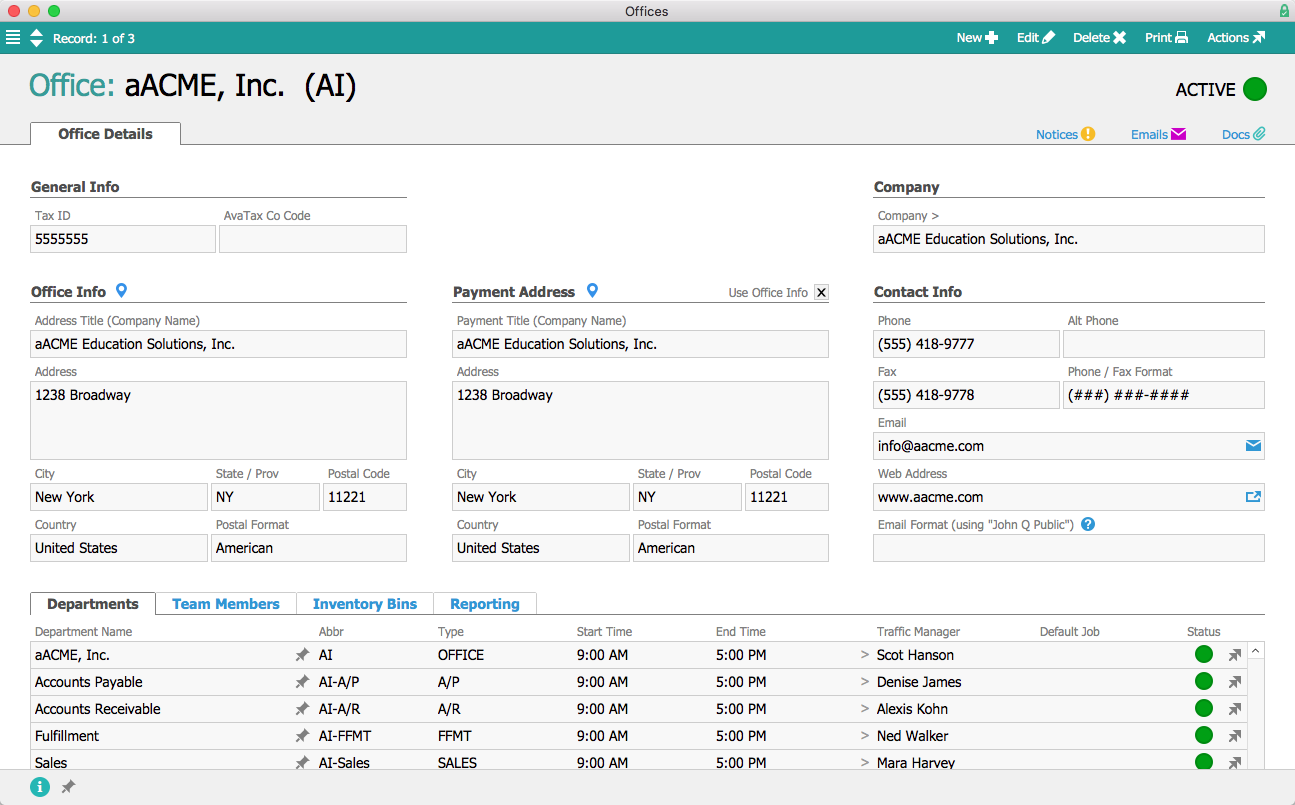 Users are assigned to a particular office. When they log in, their initials and the initials of their office are displayed at the bottom of the main menu. Mara Harvey, for example, is assigned to the aACME Inc. office, so when she logs in the menu displays "MH @ AI".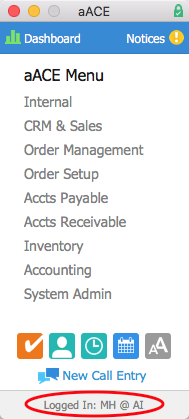 Mara receives an order from the Highbridge Academy. They're adding a new astronomy elective and need 30 student textbooks. To kick off the new course, they'd also like to bring Education Elite in to give a workshop on astronomy to the entire school.
Because Education Elite's workshops can be sold by employees at aACME's headquarters, the workshop's product record lists the aACME Inc. office in addition to the Education Elite office. To ensure that the revenue from the workshop is attributed to Education Elite regardless of which office sells it, the product record's department is EE-Workshops. The clearance outlet does not sell the workshops, so the Midwest Regional Outlet is not listed in the product's record. Employees at the outlet don't see the workshops in their system and are not able to add them to orders.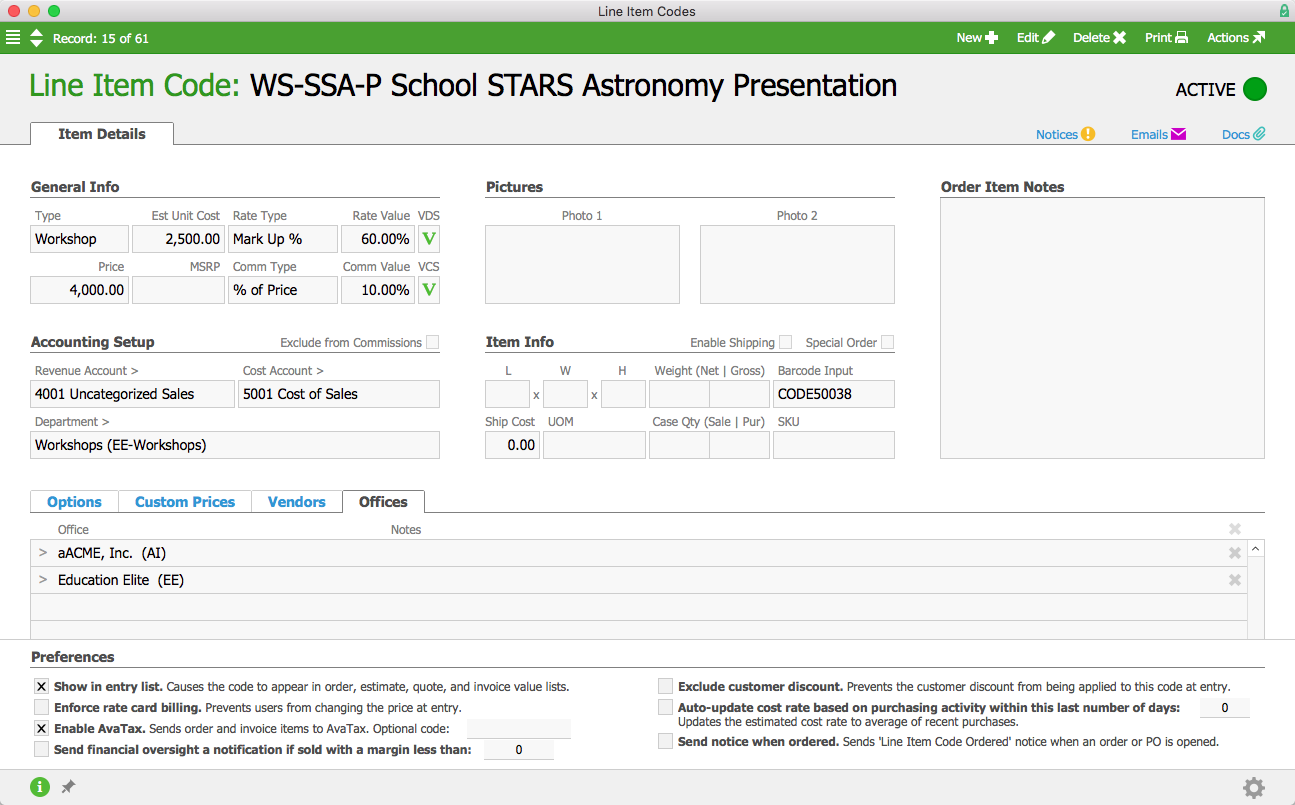 As an employee in the aACME Inc. office, Mara can see the astronomy workshop in her list of products. She adds it to the Highbridge Academy order along with the textbooks they requested.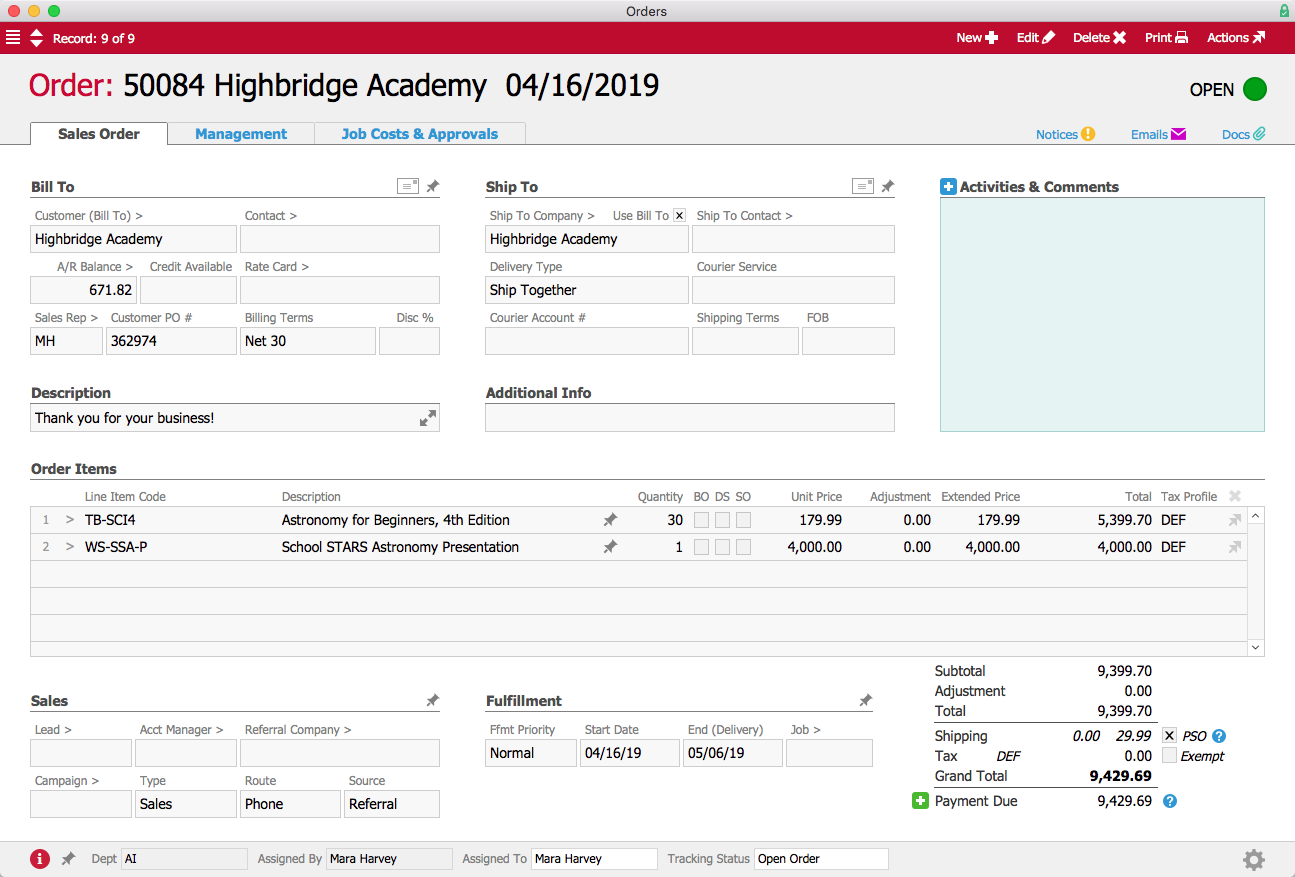 When aACE generates the invoice for this order, it will be assigned to aACME Inc. because that is where the order originated. This ensures that the customer will receive a single invoice for the entire order regardless of how many different offices they've ordered products from.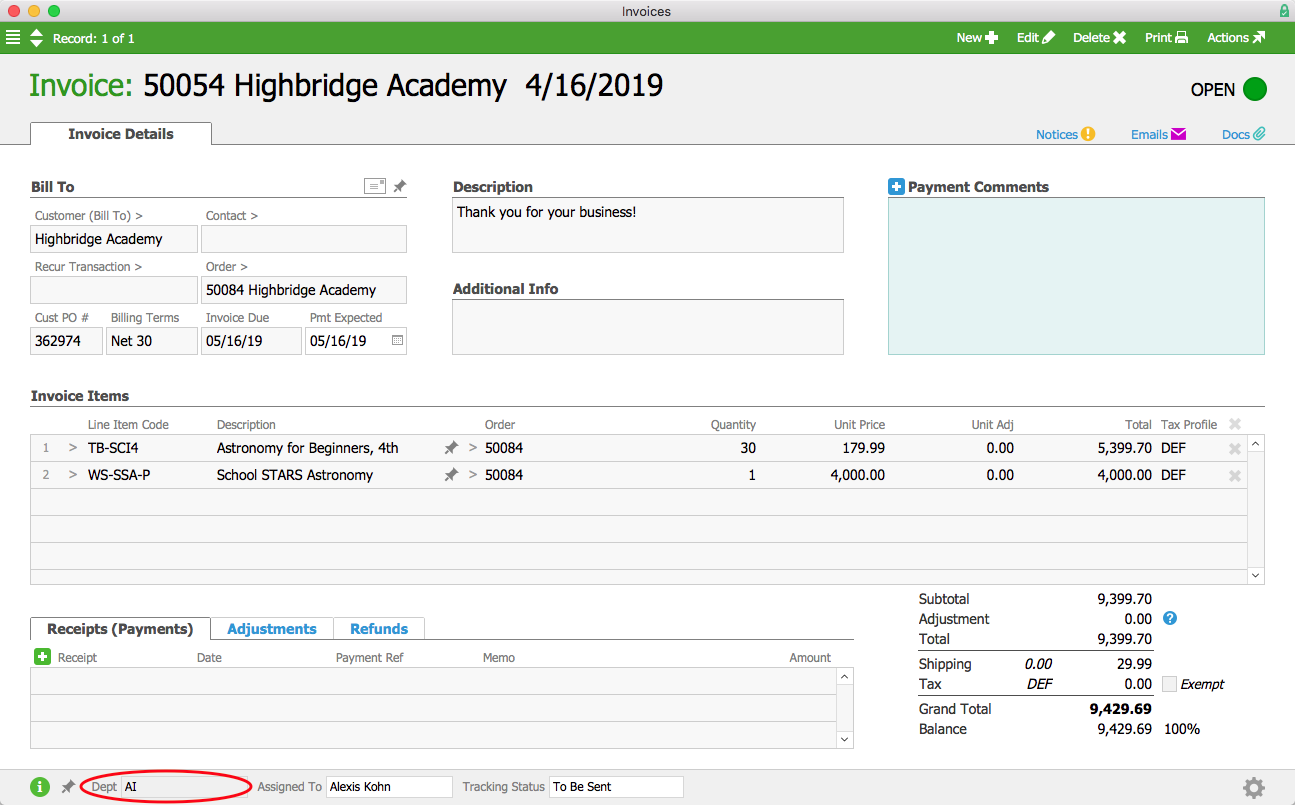 Because the workshop is assigned to Education Elite, the general ledger will attribute the revenue generated from the workshop to EE's office. Below we can see the GL transactions associated with the invoice. The transactions have been sorted by office to show that the $4,000 revenue (Account #4001) from the workshop has been attributed to EE. There is also a receivables balance (Account #1204) for the $4,000 due from AI. We can see the corresponding payables balance (Account #2202) associated with AI's office.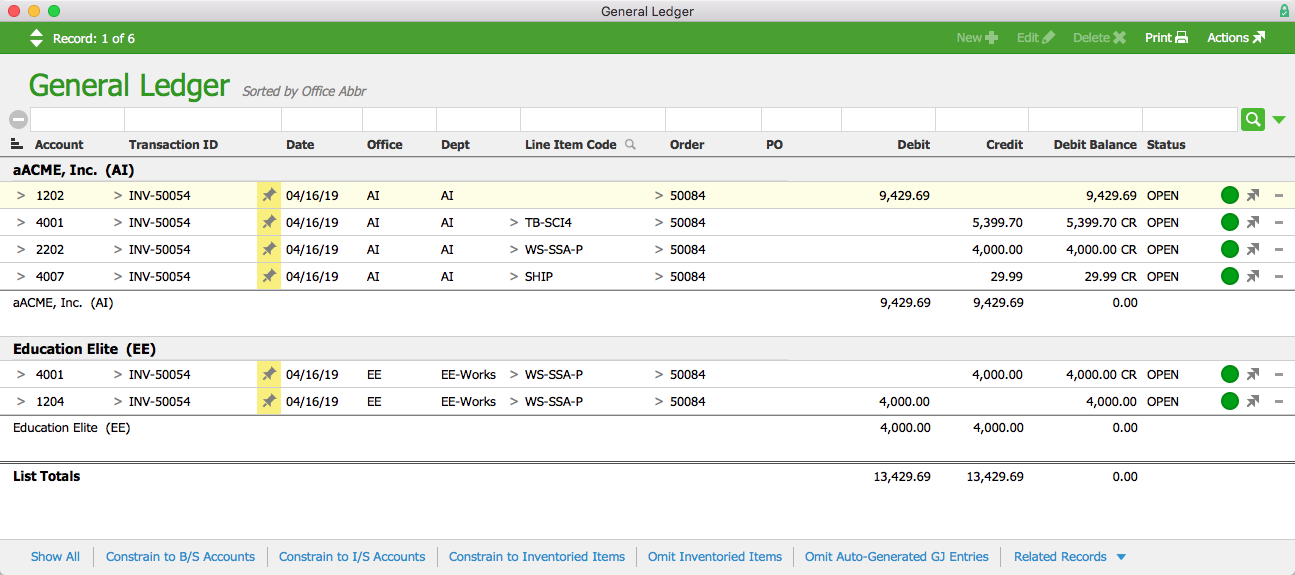 Later, Mara receives an order from the Shea Township School District. They would also like to run the astronomy workshop at their high school; because they have worked directly with Mara in the past, they placed the order through her instead of through Education Elite. When Mara processes the order, she changes the department associated with the order to Education Elite since she is only selling their products. This change means that the quote she sends to Shea Township will have EE's branding instead of aACME's.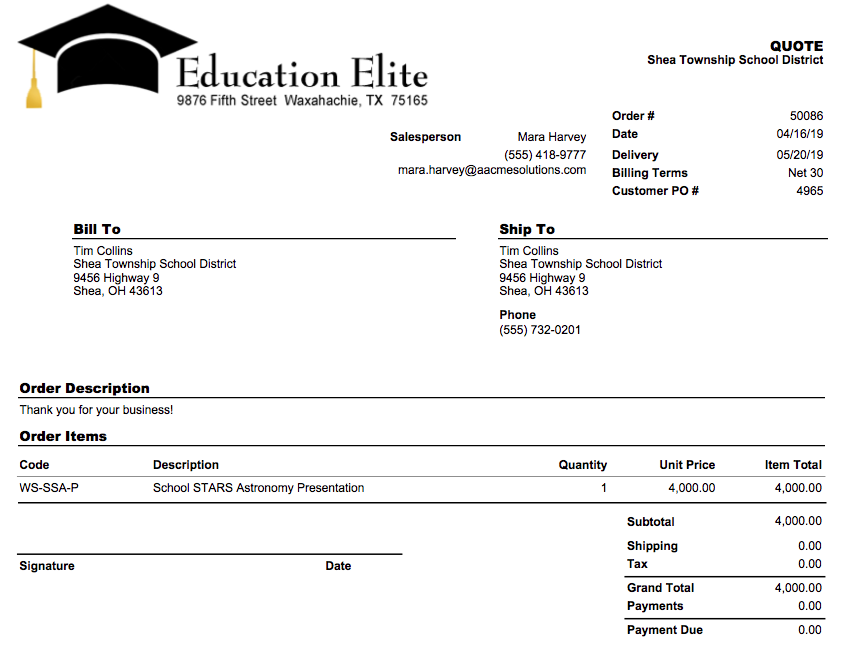 As an account manager, Mara has privileges in aACE that allow her to see orders from all three offices. In the Orders module list view, she can sort her list of orders by office to see which ones belong to aACME Inc., the Midwest Regional Outlet, or Education Elite.

Not all users are able to view data from all of aACME's offices. Jamie Gianelli, a sales representative for aACME Inc., is only able to view orders pertaining to her own office. If she searches for Shea Township, for example, she won't see Order #50086 for the astronomy workshop because that order belongs to Education Elite.

Stockroom manager Allen Wright typically works out of aACME Inc.'s main office in New York, but when the stockroom manager at the Midwest Regional Outlet is promoted out of the role, Allen is sent there to temporarily fill the vacancy. When Allen logs into aACE, he's automatically logged into the aACME, Inc. office. But because he's a manager, he has privileges in aACE that allow him to switch between offices. While he's working in the outlet, he changes his office to the MWRO so that he has access to all of the correct data.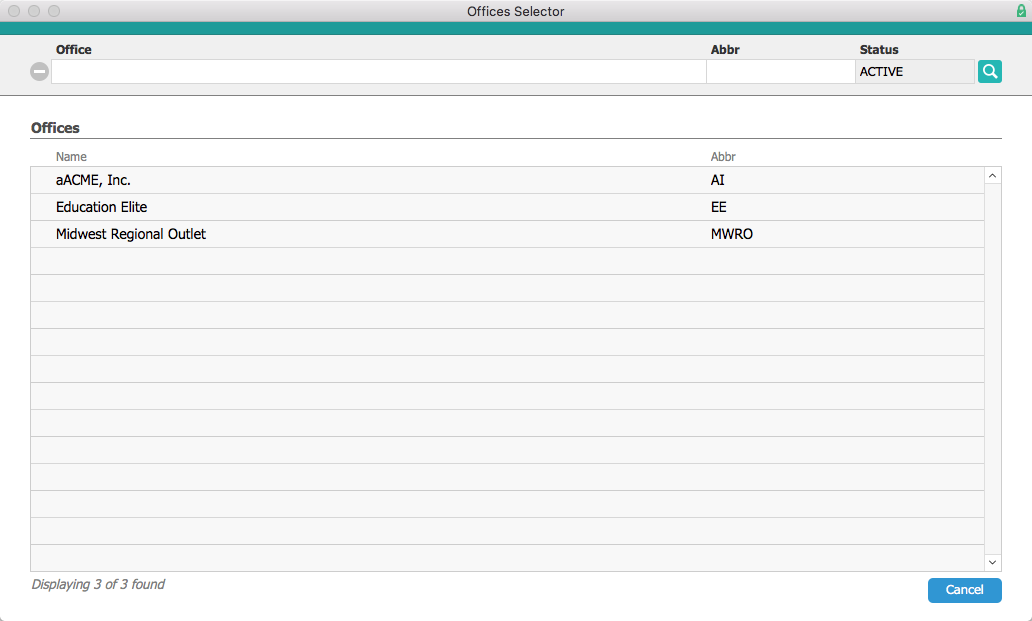 Now let's look at how aACE handles accounting transactions among multiple entities. Education Elite is based in Texas, but they also occupy a satellite office within aACME Inc.'s Manhattan headquarters. The $1,000 monthly rent paid to aACME's landlord, Prism Real Estate Holdings, is therefore split between the two companies. In aACME's Accounts Payable department, Alexis Kohn enters the May rent in the Purchases module. She enters $650 for rent as the first line item, and chooses AI from the drop-down list of departments. In the second line item she enters the remaining $350 for rent and chooses EE from the list of departments.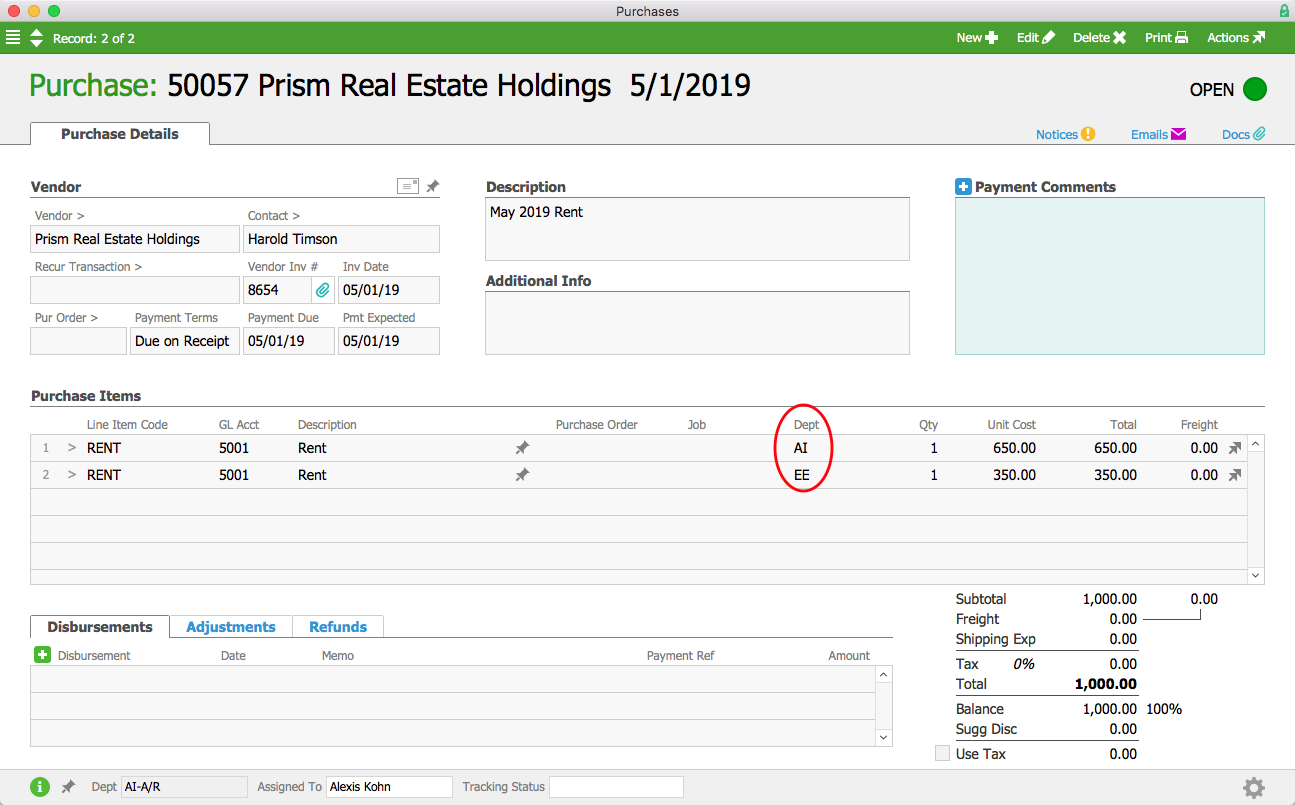 The full $1,000 is paid to the landlord in one purchase, with the correct totals attributed to each company in the general ledger. Below we can see the GL transactions associated with this purchase sorted by office. Because the purchase originated in the aACME Inc. office, the AP balance for the entire purchase is attributed to AI (Account #2101). The expense code for the rent, however, only lists the $650 that AI was responsible for under AI's office (Account #5001). The remaining $350 is a receivable balance due from Education Elite (Account #1205). Likewise, the transactions associated with EE's office show a $350 expense for rent (Account #5001) and a $350 payable balance due to AI (Account #2201).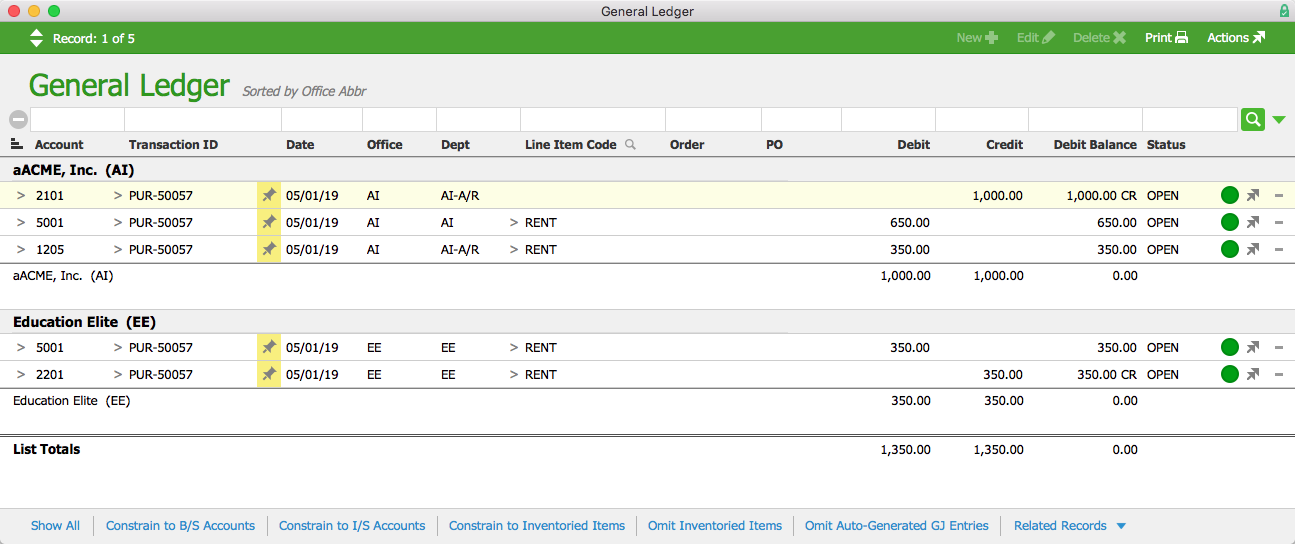 We've now seen several examples of workflows involving multiple entities in aACE, but what happens when an executive needs to see the bigger picture?
When aACME Inc. President Jacob Young logs into aACE and views the GL Accounts module, he can see accounts from each of aACME's three offices in one consolidated chart of accounts.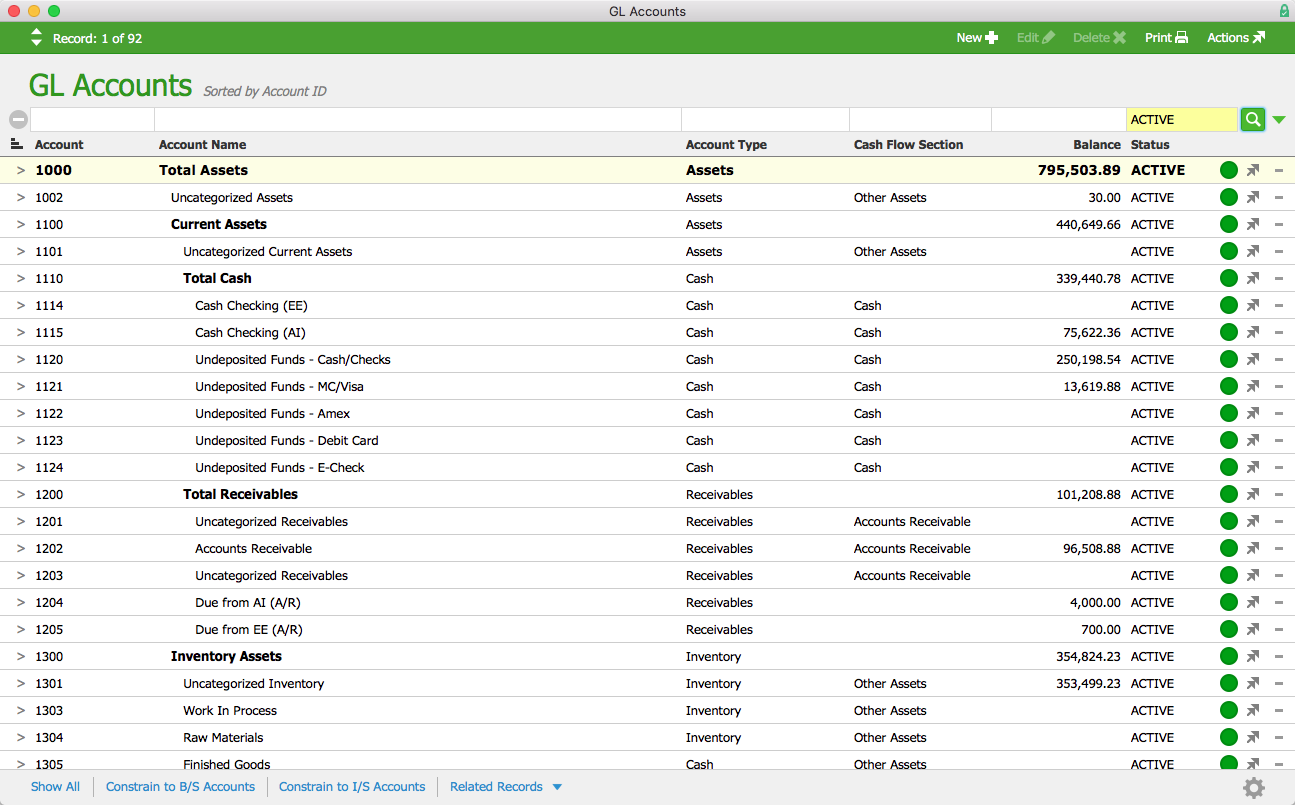 If he wants to constrain the data to a single entity — for instance, Education Elite — he can select Balance Sheet from the Print menu and choose Education Elite's office.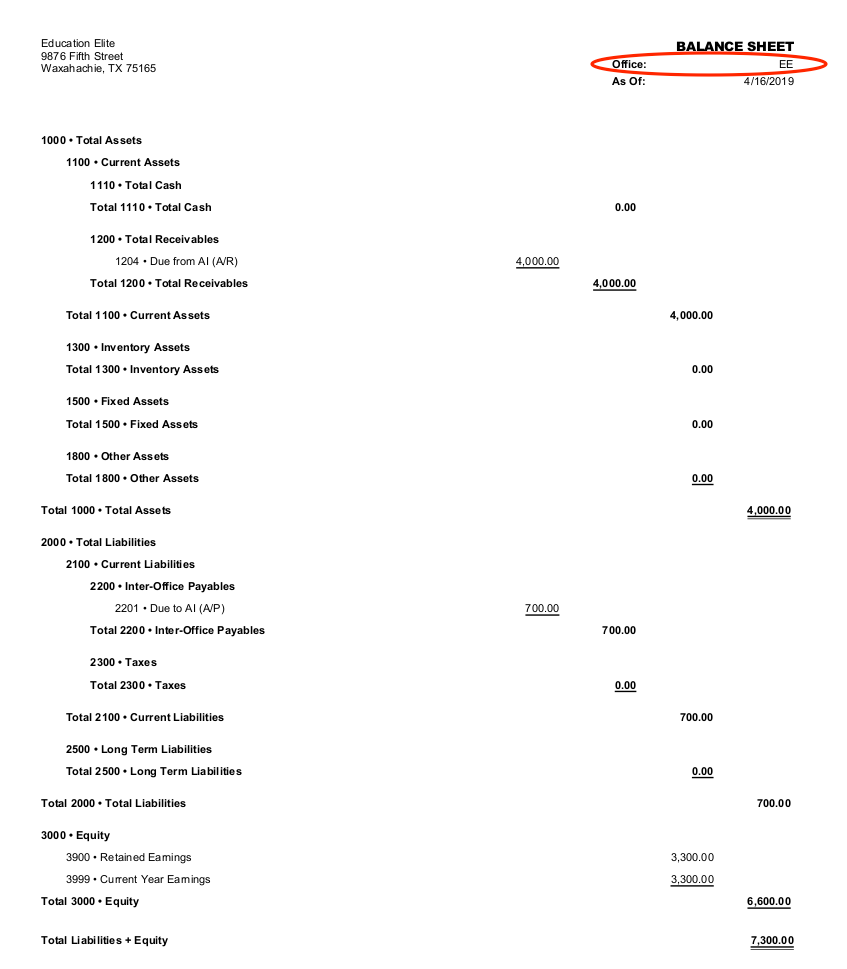 For some purposes, it may be better to manages the three offices' general ledgers separately. Jacob can do that by enabling a preference in aACE's Data Entry settings. Now when he views the GL Accounts module, he'll see only the accounts for the office he's currently logged into.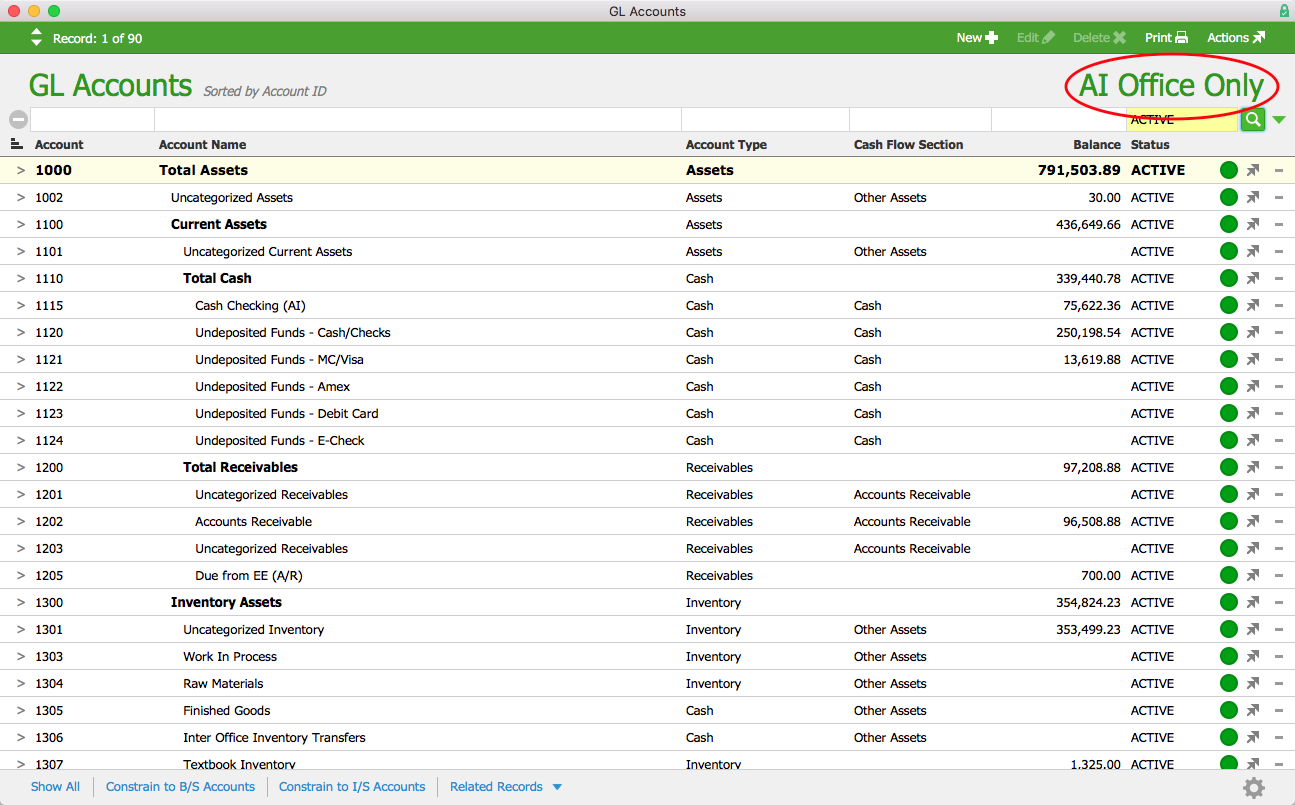 If Jacob wants to limit a particular GL account to the Education Elite office, he can simply select EE from the Limit-To Office drop down menu when creating a new GL account or editing an existing one. If the preference to prevent multi-office transactions is enabled, this GL account will not be visible to users who are not logged in to Education Elite's office.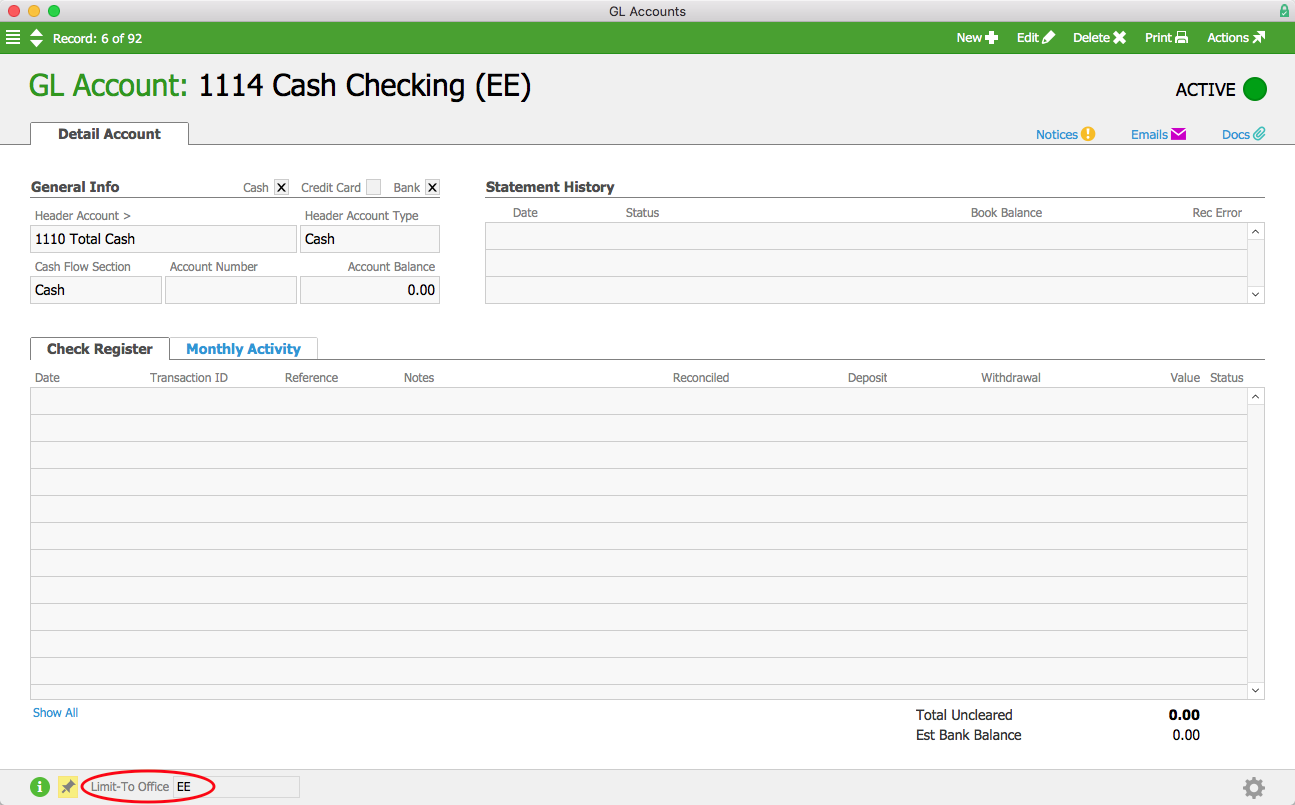 This means that when Denise James in the Accounts Payable department cuts a check for office supplies on behalf of aACME Inc. she will only be able to do so from the AI office's checking account. If she tries to use an Education Elite account to cut a check assigned to aACME Inc., aACE will display an error message and prevent the disbursement from being posted.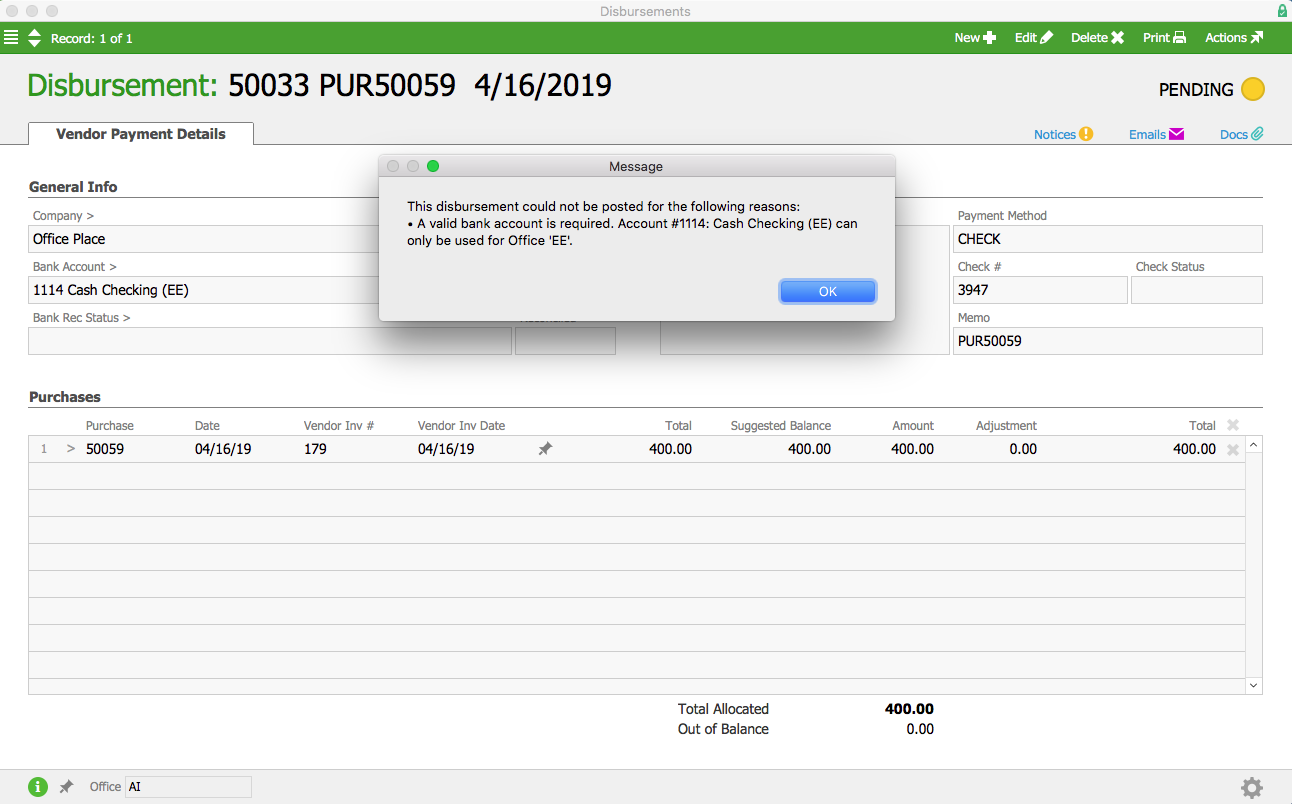 These scenarios highlight some of the most useful features of aACE multi-entity accounting. Whether you're managing multiple locations or multiple companies, aACE makes it easy to accurately track all of your data in a single, comprehensive solution. To learn more about how an actual business manages multiple entities in aACE, check out our success story on Special EFX. And to see aACE in action, register for a webinar today.
 "I cannot begin to tell you what a breath of fresh air this has been for us. Implementing aACE is the best thing we ever did. The solution evolves with us as our needs change." ~ Peter Osborne, CEO, Special EFX Ltd.