Whether it's paying the rent, billing for subscription services, or allowing customers to take out a payment plan, most businesses have at least a few transactions that are set to recur regularly. Wouldn't it be great if you could enter these transactions once and trust your business management solution to do the rest?
With aACE, you can.
aACE's automated Recurring Transactions module allows you to set and forget your regular transactions. To see this feature in action, let's take a look at just a few examples of how our fictional company, aACME Education Solutions, uses it in their day-to-day operations.
Receipts
The Regina County Area School District places an order for 20 tablet computers for their students. Account Manager Mara Harvey receives a call from Lauren Padilla at the school district, asking if they could pay for the tablets in five installments. When aACE auto-generates the order's invoice, Mara makes a note of the agreement in the Payment Comments field.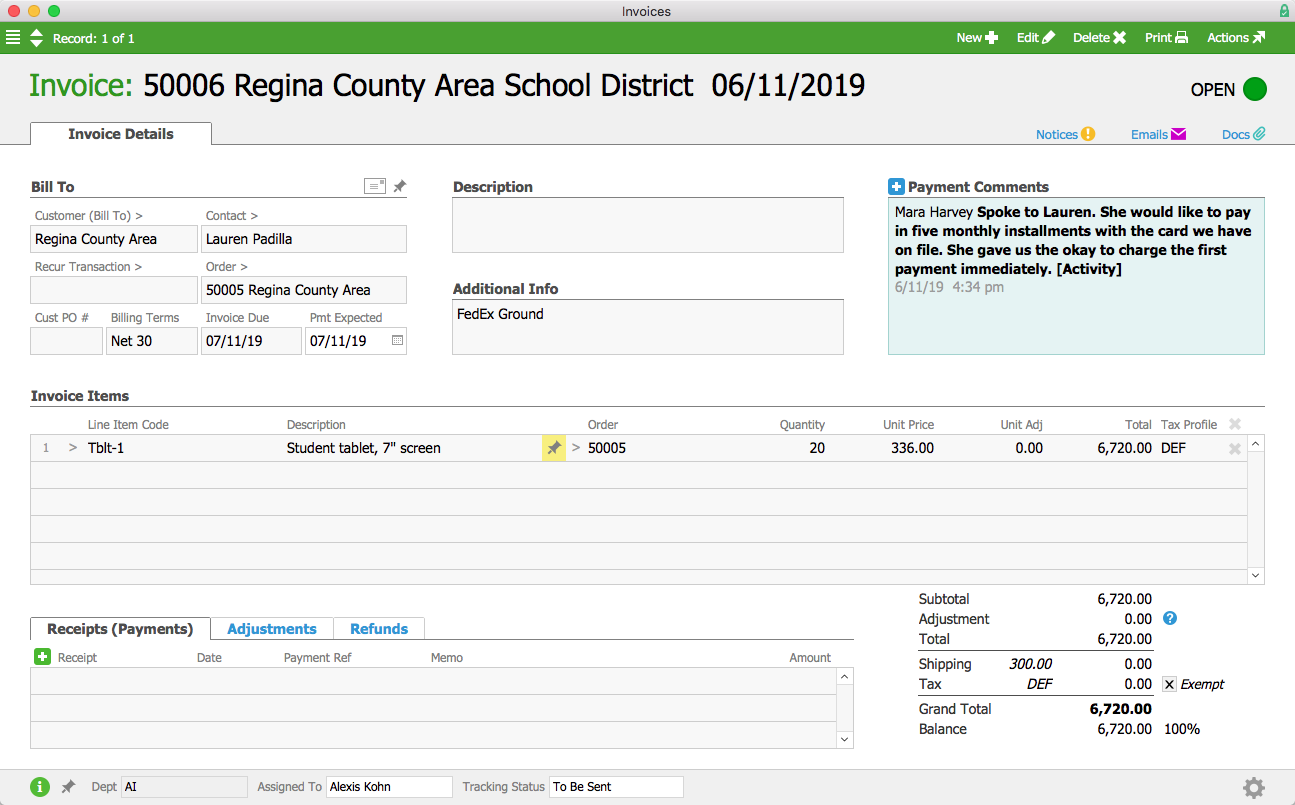 When Alexis Kohn in the Accounts Receivable department sees this note, she creates a new customer payment receipt in the Recurring Transactions module. Lauren has agreed to pay each installment via a credit card that's kept on file, so Alexis configures the transaction to automatically charge that card and post the resulting receipt each month until the invoice has been paid off. Lauren had asked for the payment plan to begin immediately, so Alexis manually runs the first cycle. aACE generates the first receipt and updates the transaction's schedule so it will run automatically next month.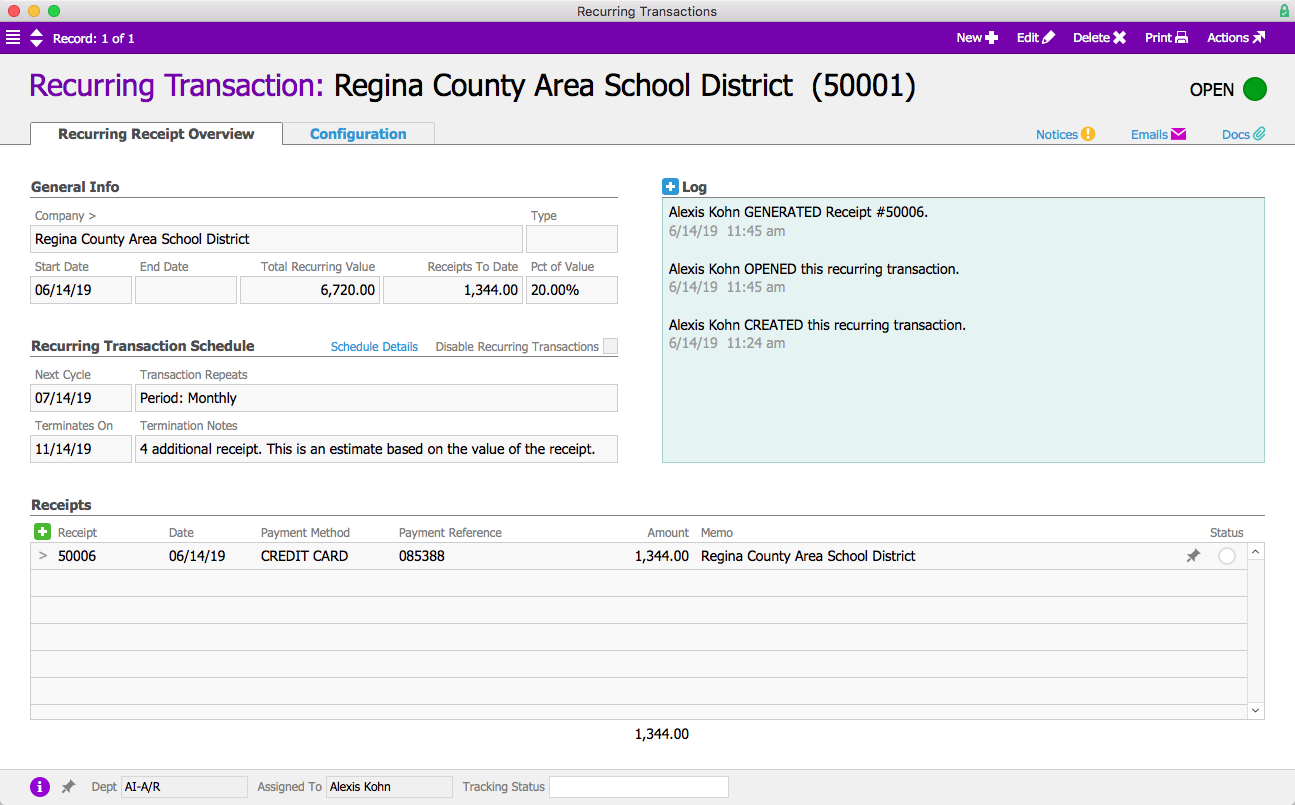 Purchases
aACME Education Solutions has just signed a lease on a new office space, and Denise James in the Accounts Payable department needs to set up a recurring transaction for the monthly rent. To do that, she creates a new purchase in the Recurring Transactions module.
Using merge fields, she sets up the title of each purchase to reflect the then-current month and year. Then she configures the record to automatically generate a purchase and disbursement on the first of each month. The disbursement will be left pending, and a member of the A/P team will be notified when it is time to process it and cut the monthly rent check.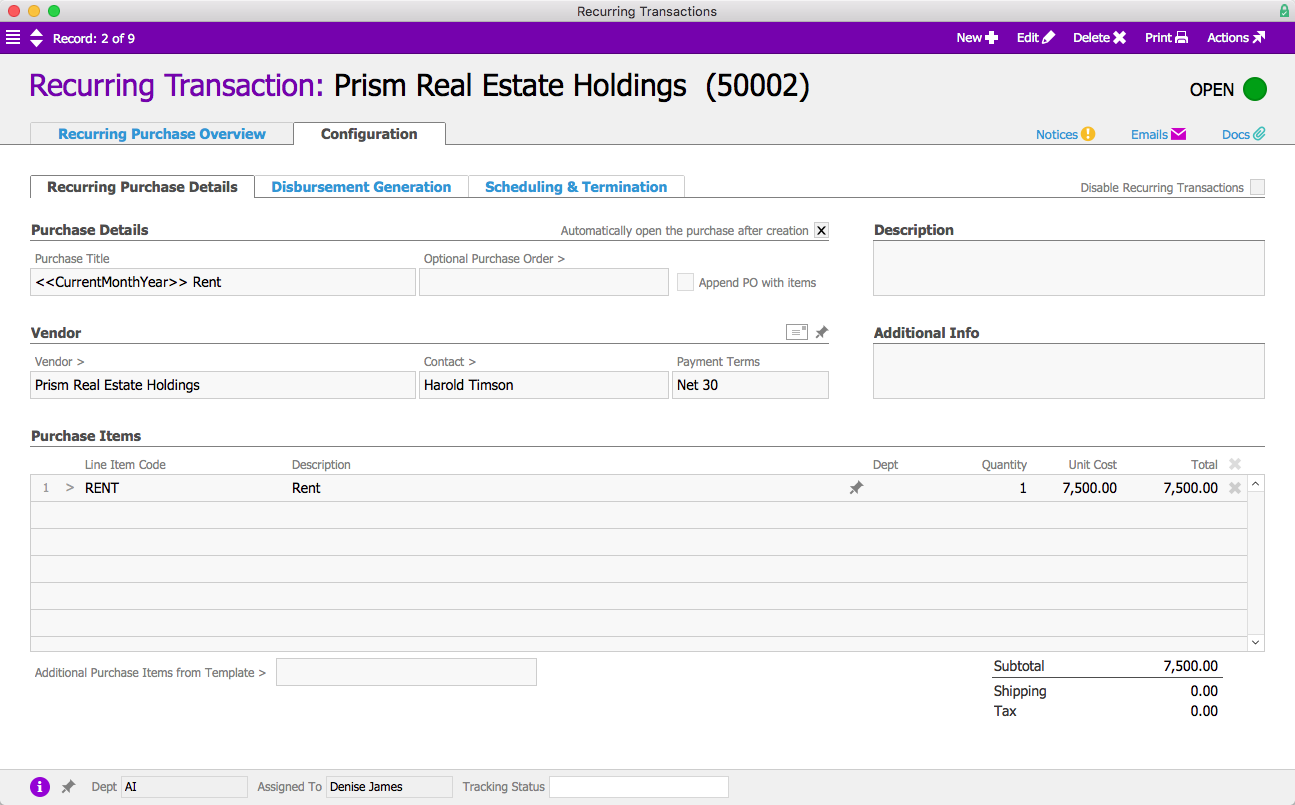 General Journal Entries
Pete McNeil, aACME's Director of Human Resources, processes payroll every two weeks. To manage this data in aACE, he creates a new general journal entry in the Recurring Transactions module.
Because every pay period is slightly different, Pete does not configure the transaction to automatically post the GJ entry once it's been generated. Instead, the recurring transaction will be used as a template and Pete will fill in the details each time payroll is processed. Because payroll will continue to run indefinitely, he doesn't set an end date; aACE will continue generating GJ entries every two weeks until someone manually disables the transaction.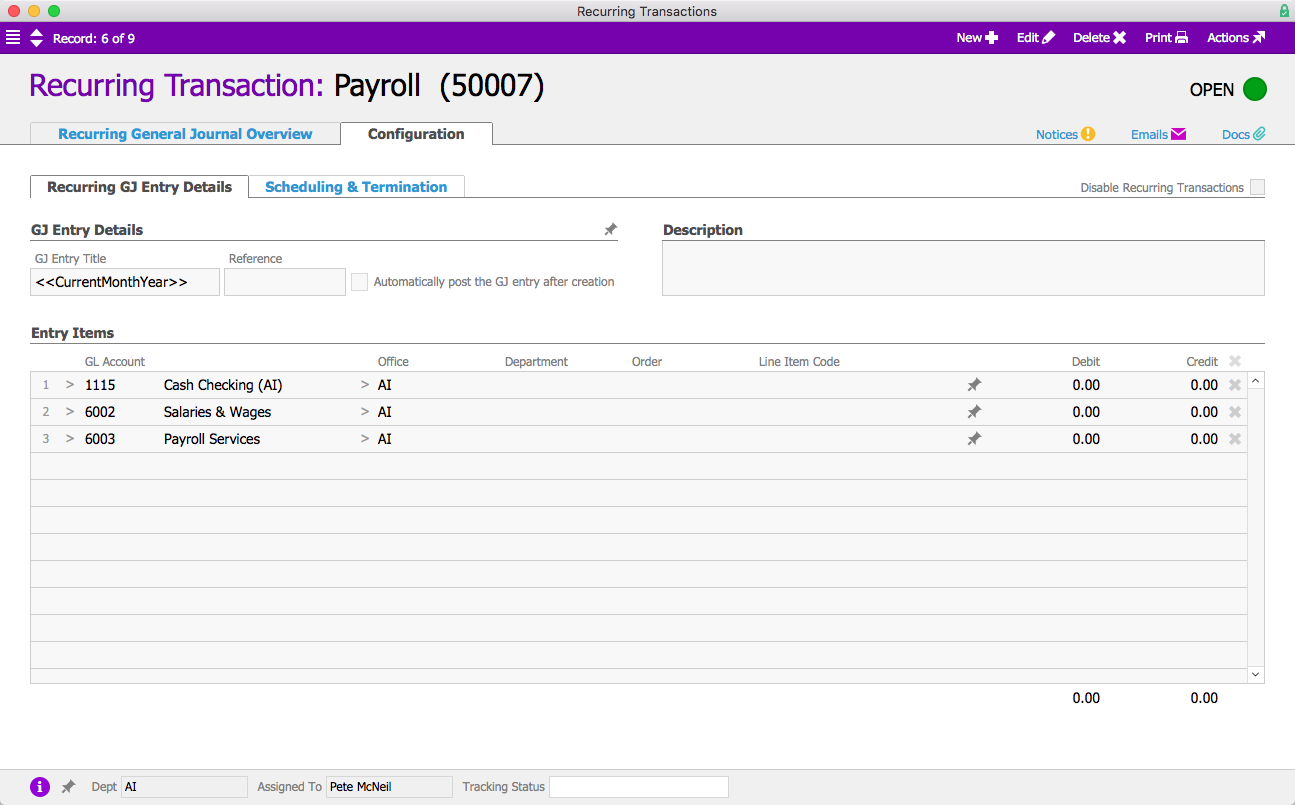 Invoices
In addition to selling new and refurbished electronic whiteboards, aACME offers schools the option to rent these expensive products. The Full STEAM Academy Charter School rents three whiteboards for their summer term. To ensure that the revenue for each month's payment is accounted for correctly, Alexis Kohn in the A/R department creates an invoice in the Recurring Transactions module.
Each month, aACE will generate a new invoice for the monthly rental fee and charge the credit card on file for Full STEAM. The transaction will automatically terminate at the end of the summer. Unlike a recurring receipt, which considered each payment as part of a single transaction, aACE will recognize revenue from the recurring invoices separately.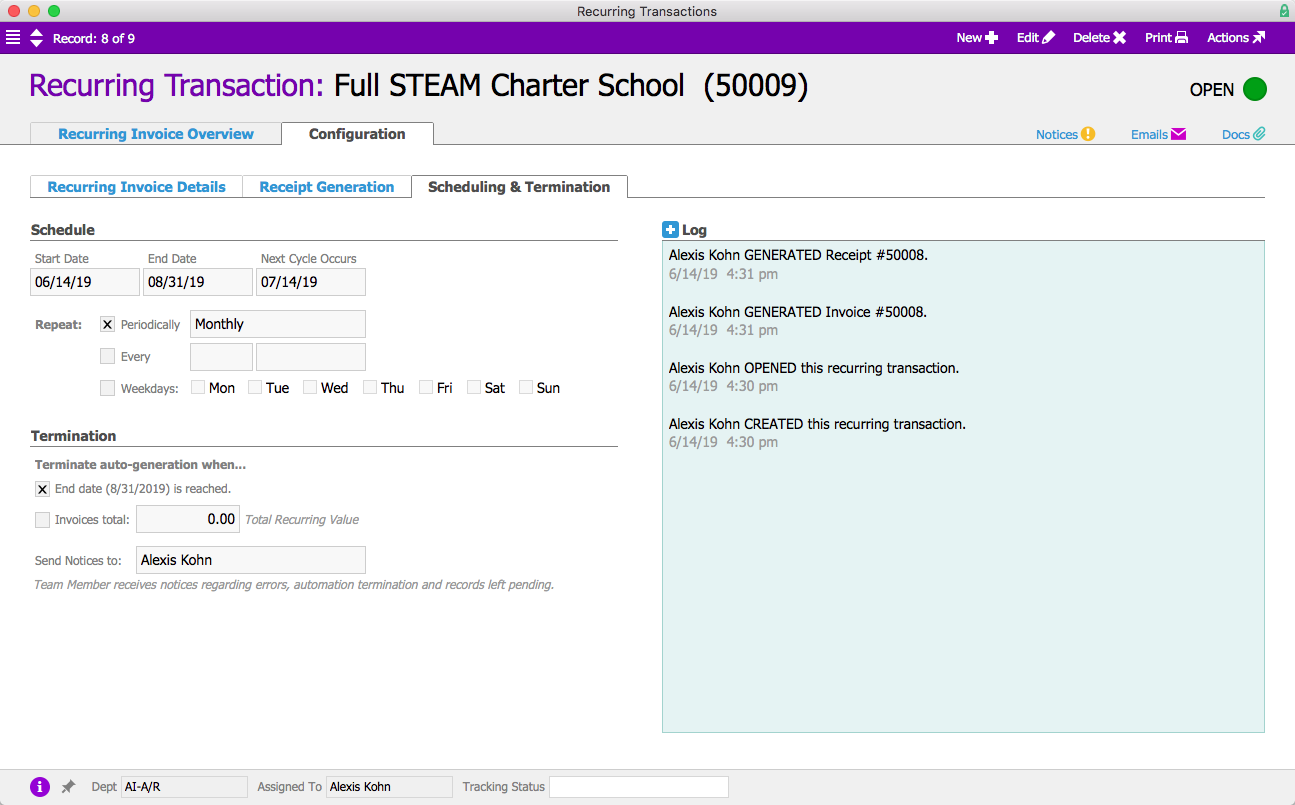 Orders
For customers who buy or lease electronic whiteboards or other tech, aACME offers a service plan for a technician to come onsite and make sure their products are in good working condition. Twice a year, aACE generates an order that automatically appears on the calendar for scheduling, and when the technician goes onsite they have a job ready to apply their time and any materials used on maintenance.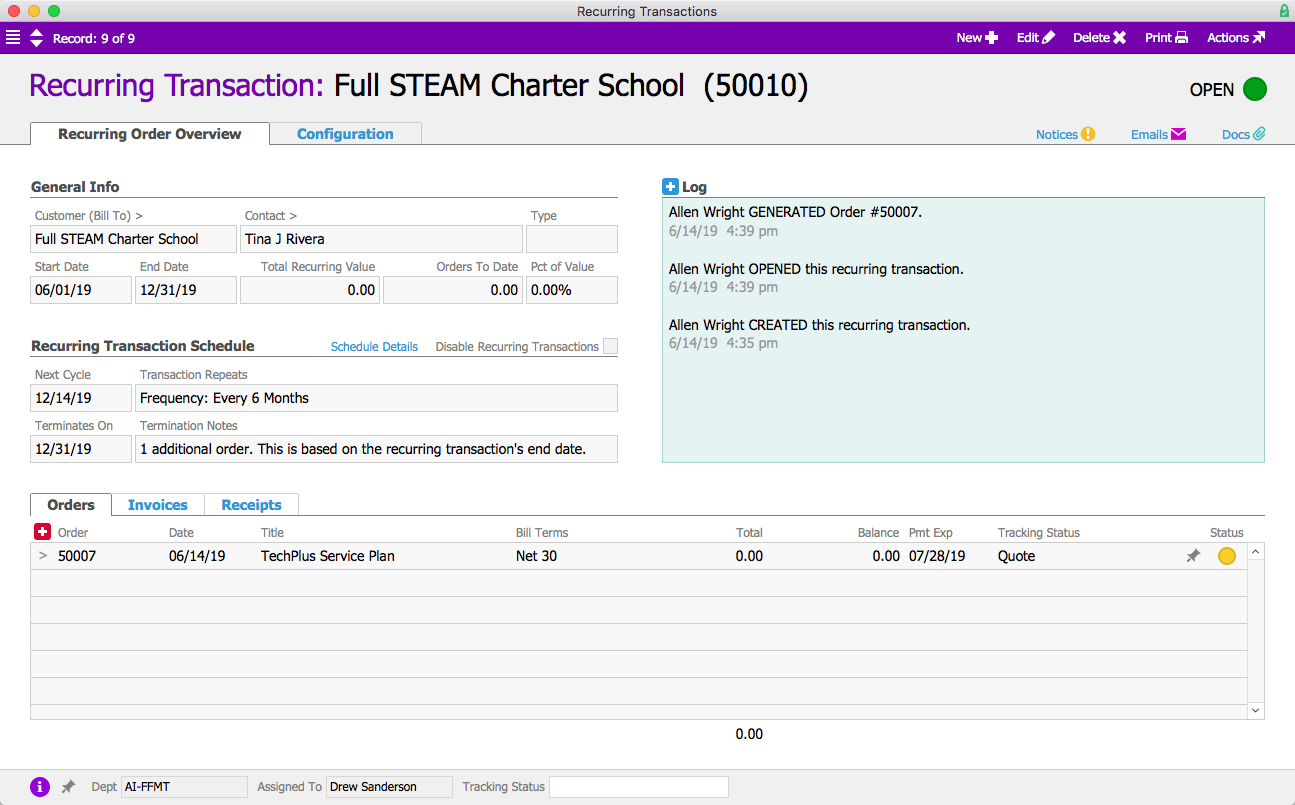 Disbursements
aACME has funds automatically withdrawn from their operating account each month to pay down a loan. To account for those payments, Denise James in the A/P department creates a recurring disbursement and tests the transaction to ensure that it generates an accurate disbursement record. On the 20th of each month – the date that the loan payments are due – aACE automatically generates and posts a disbursement for the exact amount of the loan payment.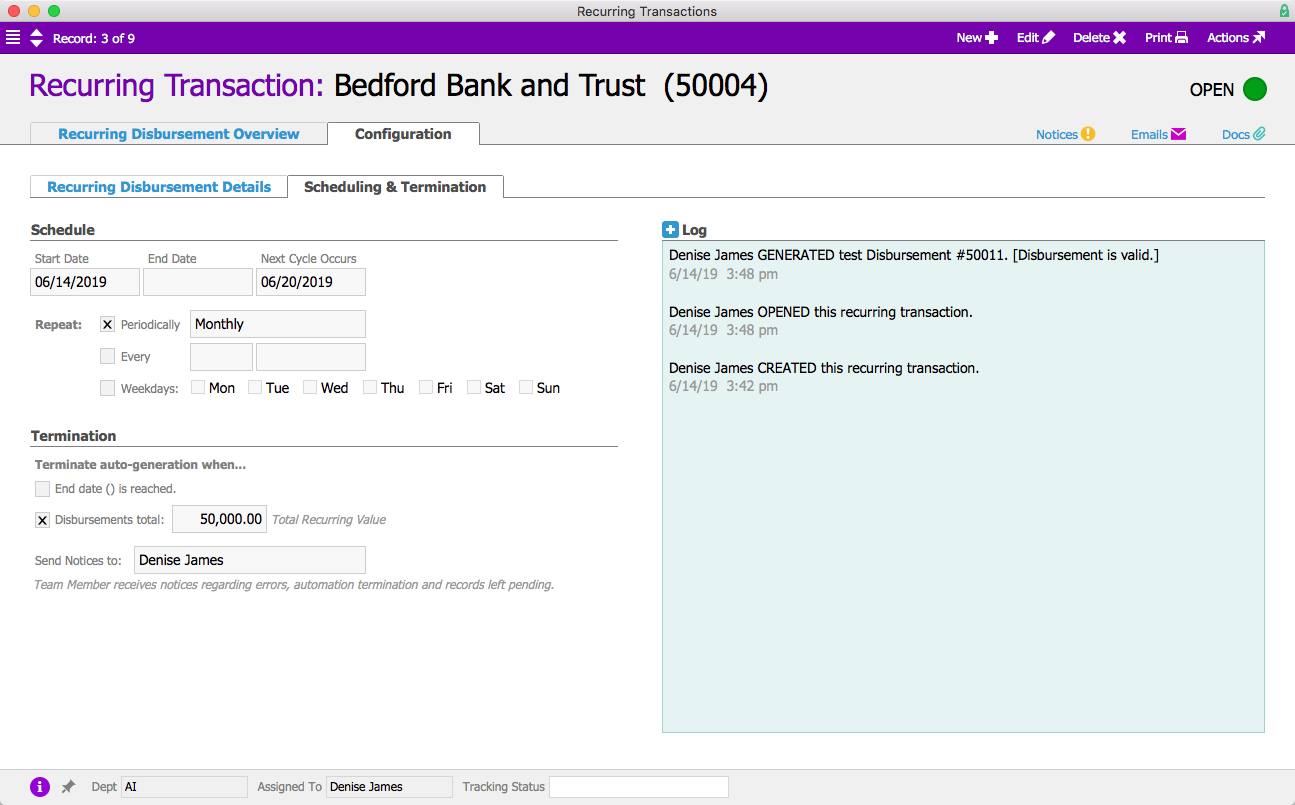 Purchase Orders
aACME provides resources for educators and school administrators on current best practices in education. To keep up with the demand for new content, they outsource their weekly blog posts to a handful of rotating writers. Denise James creates a recurring purchase order for these posts. Each week aACE automatically generates a PO for that week's article, which will ultimately be invoiced and published upon delivery.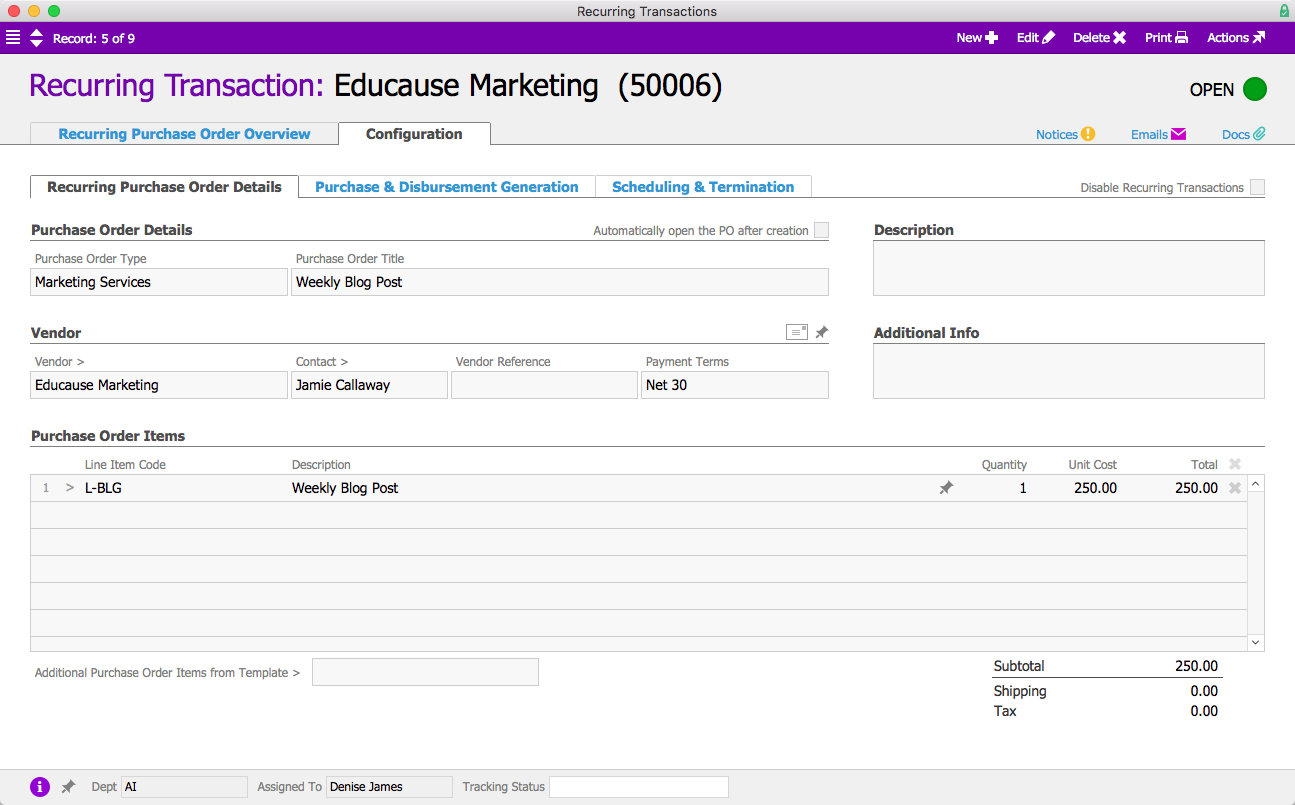 These are just a few of the ways that aACME uses the Recurring Transactions in their day-to-day operations. To learn more about how aACE automation can help streamline your business, sign up for a webinar today.
"aACE software is easy to use, intuitive, logical, and easily customized. It is clear that the architecture of aACE has been very well thought out. We were able to automate some previously manual processes that is resulting in literally hundreds of saved labor hours each month." -Daniel Chapman , Founder & CEO, Redd Remedies