This spring we were pleased to announce that aACE had been recognized as a significant ERP Contender in SoftwareAdvice.com's 2017 FrontRunners Report, a round-up of top-performing business management solutions. Powered by Gartner's data-driven methodology, this quadrant relies on user reviews and other data to highlight products that offer the best capability and value for their class. Last month the folks at SoftwareAdvice.com took another look at their ERP quadrant – and this time around, aACE earned even higher scores on both axes.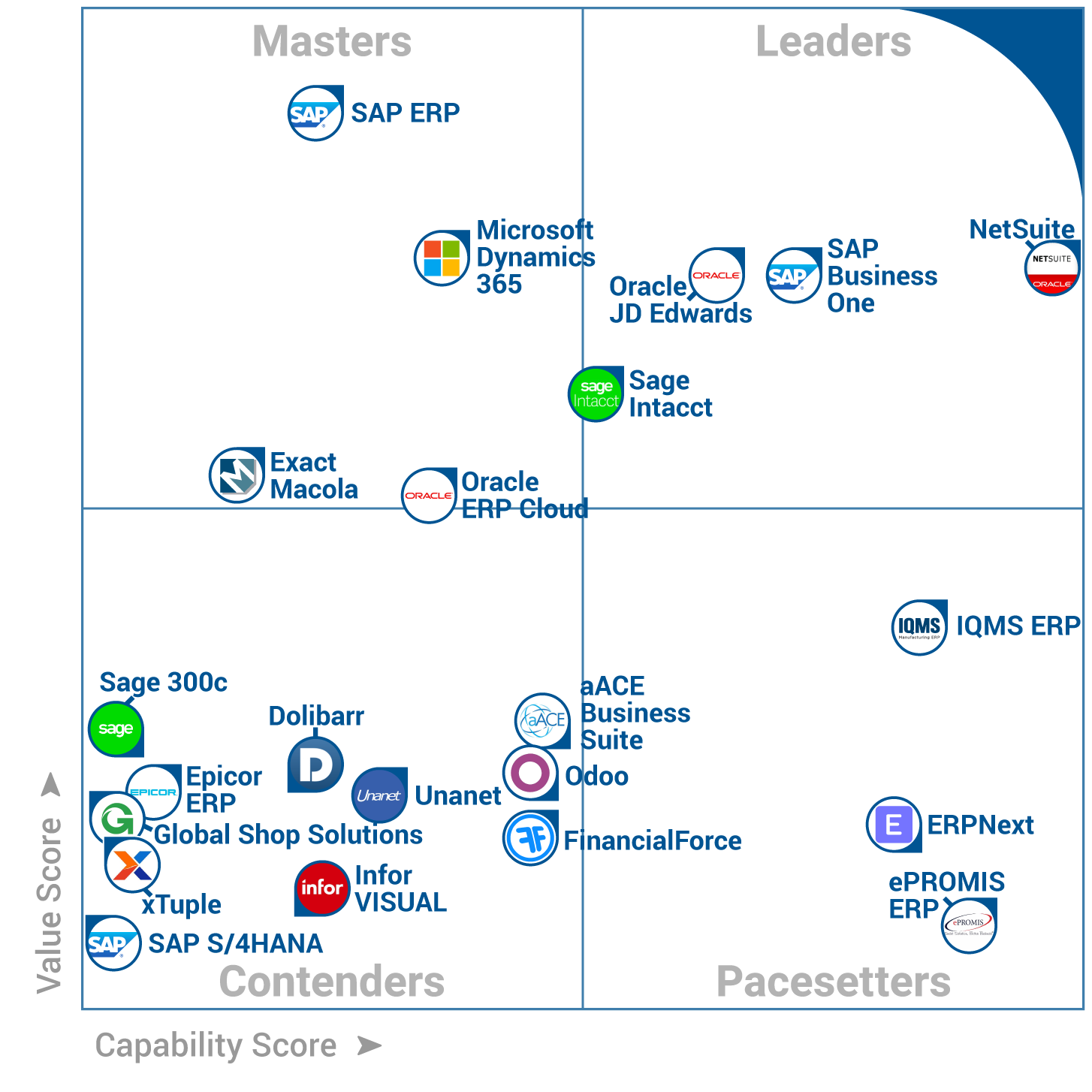 Capability: We've gone up from a 3.45 to a 3.69 in Capability over the past six months. The Capability score is based on factors such as user ratings of the product's functionality, ease of use, and customer support, as well as other data assessed by SoftwareAdvice.com.
Value: Our Value score has risen from a 3.00 to a 3.58 over same short time frame. The Value score is based on factors such as user satisfaction, the likelihood that users will recommend the product to others, and how valuable users consider the product to be, among other data points.
We were chosen as a top product for small businesses from among over 350 enterprise resource planning solutions, largely thanks to reviews from our existing clients. The people who know aACE best are the people who use it every day. We're delighted that our users have enthusiastically recommended aACE to other businesses looking to streamline their operations and improve their bottom line. Here's a sampling of what some of our clients have to say:
"I would recommend this software to anyone wanting to simplify his or her workflow, anyone who wants their software to work for them and not the other way around, and anyone tired of the ERP money pit!" – Todd Breedlove, Vice President, Knight Hardwood Flooring, Inc.
"With [aACE], our team members can now see a complete account of the history of a transaction as it moves through our system. Not only does this provide us with visibility that we had never had before, but I'm pleased to say we have also greatly benefited from the increased accountability that comes with logging all that our users have access to." – Andrew Porter, ERP Manager, Gable
"We would recommend aACE to any small to medium-size business that cannot afford full-time IT personnel. Specifically, since we're a multi-channel business, we would highly recommend aACE to businesses in the following industries: distribution, direct marketing, and mail-order." – Bumkee Kim, President, Janibell
"Over the years and through many other software initiatives, the aACE business suite has proven its robust and flexible characteristics, remaining the core of our management system." – Matthew Pelfrey, Director of Process and Compliance, Duggal Visual Solutions
"I have worked with multiple systems over the years, big and small, and to date I think that aACE is the most user friendly and customizable product available." – Daniel Peleg, Exec. VP of Operations and Business Development, Consumers' Choice Awards
"aACE is perfect for many different types of businesses. It handles inventory very well, projects, general accounting. Due to the nature of the system, and the ability to customize it for a specific business need, it is really a good fit for almost all business types: warehousing, design, etc." – Doug Jacobs, President, Restylers' Choice
To see where aACE placed on the FrontRunners quadrant and download a breakdown of our scores, visit SoftwareAdvice.com. And to learn more about what aACE Enterprise Resource Software for Mac and PC can do for your business, contact us today.
FrontRunners scores and graphics are derived from individual end-user reviews based on their own experiences, vendor-supplied information and publicly available product information; they do not represent the views of Gartner or its affiliates.